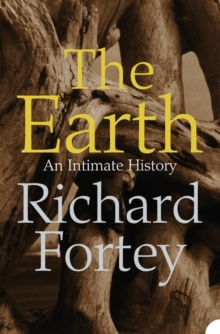 The Earth : An Intimate History
Paperback
Description
The paperback of the Sunday Times bestseller that reveals how the earth became the shape it is today.
This book will change the way you see the world - permanently.The face of the earth, criss-crossed by chains of mountains like the scars of old wounds, has changed constantly over billions of years.
Its shape records a remote past of earthquakes, volcanos and continental drift, and the ongoing subtle shifts that bring our planet alive.Richard Fortey introduces us to the earth's distinct character, revealing the life that it leads when humans aren't watching.
He follows the continual movement of seabeds, valleys, mountain ranges and ice caps and shows how everything - our culture, natural history, even the formation of our cities - has its roots in geology.
In Richard Fortey's hands, geology becomes vital and exhilarating and unmistakably informs our lives in the most intimate way.
Information
Format: Paperback
Pages: 528 pages, 54 b/w, 24 col plates (32pp), Index
Publisher: HarperCollins Publishers
Publication Date: 07/03/2005
Category: Popular science
ISBN: 9780006551379
Free Home Delivery
on all orders
Pick up orders
from local bookshops
Reviews
Showing 1 - 1 of 1 reviews.
Review by RoboSchro
16/06/2015
"An awesome vista of geological time suddenly opens up before us, a vision of age after age of mountain-building, of continents remaking themselves, stretching far back into the distant reaches of the Precambrian. It should provoke a sense of our own insignificance, but it also stimulates a sense of wonder that we, alone among organisms, have been privileged to see these vanished worlds, and challenged to understand the immensity of time. A sudden squall makes us shiver, and turn up our collars."This book is a delight. I chose it nearly at random, looking for a new popular science book -- I have no background in geology. Now I'm interested, where I wasn't before. Like the best popular science, it opens the layperson's eyes to a better understanding of the world, and gives one a glimpse of what it must be like to really know its particular field well.Fortey is obviously trying to appeal to a broad readership, and I think he nearly succeeds. He takes pains, for instance, to explain that scientists whose ideas turned out to be wrong were not necessarily any less wise or important than those whose ideas turned out to be right. (Anyone who understands the scientific method shouldn't need to learn that lesson.) He's very good at incorporating human touches to the course of scientific history, both his own and others', and the book is surprisingly easy reading considering the amount of detail. Yet I suspect the subject matter is probably too dry for most, despite his efforts.The chapters are organised by theme -- volcanoes, mountains, minerals, continents, etc. This works well, and means that the early chapters aren't just about old, discredited theories. It would probably be possible to dip in and out of the book without getting too lost.The only criticism I would level is that his attempts to convey the "immensity of time" get him into trouble. What is described in one chapter as ever-changing, in slow but inevitable flux, is described in the next as permanent, eternal. Fortey's enthusiasm occasionally runs away with him, and he gets a bit self-contradictory.This is only in regard to our perceptions of things, however. On the science itself, he is (so far as I can tell) rigorous, and he is certainly accessible. A great book.