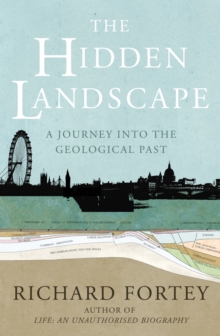 The Hidden Landscape : A Journey into the Geological Past
Paperback
Description
'I travelled to Haverfordwest to get to the past. From Paddington Station a Great Western locomotive took me on a journey westwards from London further and further back into geological time, from the age of mammals to the age of trilobites...
Under the River Severn and into Wales, I was back before the time of the dinosaurs, to a time when Wales steamed and sweated with the humid heat of moss-laden and boggy forests in coal-swamps, where dragonflies the size of hawks flitted in the mist; and then on back still further in time, so far back that life had not yet slithered or crawled upon the land from its aqueous nursery.'So begins this enthralling exploration of time and place in which Richard Fortey peels away the top layer of the land to reveal the hidden landscape - the rocks which contain the story of distant events, which dictate not only the personality of the landscape, but the nature of the soil, the plants that grow in it and the regional characteristics of the buildings.
We travel with him as our guide throughout the British Isles and as the rocks change so we learn to read the clues they contain: that Britain was once divided into two parts separated by an ocean, that Scottish malt whisky, Harris tweed, slate roofs and thatched cottages can be traced back to tumultuous events which took place many millions of years ago.
The Hidden Landscape has become a classic in popular geology since its first publication in 1993.
This new edition is fully updated and beautifully illustrated.
Information
Format: Paperback
Pages: 320 pages, 1 Illustrations, unspecified
Publisher: Vintage Publishing
Publication Date: 04/02/2010
Category: The Earth: natural history general
ISBN: 9781847920713
Free Home Delivery
on all orders
Pick up orders
from local bookshops
Reviews
Showing 1 - 1 of 1 reviews.
Review by shanaqui
16/06/2015
Geology is not my thing, generally -- in fact, aside from one other book, which was by Richard Fortey as well, I've generally found it quite boring. The attraction here is Fortey's writing, which is clear and passionate. Beautiful, even. Most of that is the sheer enthusiasm and inventiveness with which he treats his subject: metaphors and vivid descriptions abound, even as he's being very clear about the geological forces at work and what the features of the landscape mean.Unlike <I>Earth: An Intimate History</I>, this book discusses solely the geology of the British Isles. It touches on most areas as it does so, going through Scotland and Wales, Cornwall, East Anglia, some of the small islands offshore... It's not an exhaustive list, of course, but it goes from the oldest rocks of our islands to the newest, discussing their formation and weathering, and what that means for the landscape and the future. It might be surprising that even in a book originally published twenty years ago, there's a lot of discussion of the potential of climate change to completely alter our landscape, but I think that's because it takes a long view (necessarily so!). Whether climate change is man-made or not isn't important: it happens, either way, and part of the story of geology is climate change.Honestly, I take away as little understanding of schists, gneisses and nappes as I started with; it's the kind of information that won't stick in my head. But I enjoy the way Fortey presents it, and so thoroughly enjoyed it even knowing I'm not going to retain the information.