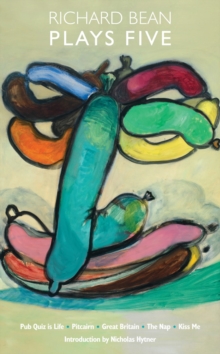 Richard Bean : Plays Five
Paperback / softback
Description
Great Britain: An anarchic and foul-mouthed satire about the press, the police and the political establishment.
Paige Britain is the ambitious, morally-bankrupt young news editor of The Free Press, a tabloid newspaper locked in a never-ending battle for more readers.
The Nap: Dylan isn't your typical snooker player. He's a vegetarian, for starters. This is the biggest week of his life and everybody wants a piece of him - his ex-con Dad, local gangster Waxy Chuff and the snooker corruption squad. Pitcairn: In the southern Pacific Ocean on the remote island of Pitcairn, the infamous mutineers of The Bounty, led by Fletcher Christian (or should it be Titreano?) begin to establish a new society alongside their Tahitian followers.
Tensions quickly swell as the British settlers refuse to relinquish the vices of their past.
Social, racial and sexual schisms render the once paradisiac island into a hotbed of discord and bloody violence. Pub Quiz is Life: Lee, a soldier returning to Hull from two tours of Afghanistan, joins a losing pub quiz team. The team is: Lee, specialist subject - "how to kill a man with your bare hands"; Woody, specialist subject - "hallucinogenic drugs"; and Bunny, specialist subject - "the containerisation of Hull docks"!
What they need is a bit of class, a bit of history of art, a bit of literature, a bit of posh totty.
Melissa has come to Hull to regenerate the city. Maybe she can be a shot of Viagra for a particular East Hull pub quiz team.
A murderous black comedy, set in Hull's black economy, with too many questions and all the wrong answers. Kiss Me: A desperate woman. A man with an unusual job. And a forbidden kiss that changes everything. Richard Bean's new play is a beautiful and unorthodox love story about two people struggling to escape the guilt and ghosts of the past, set against the shifting world of London post-World War I.
Information
Format: Paperback / softback
Pages: 360 pages
Publisher: Oberon Books Ltd
Publication Date: 01/03/2017
Category: Plays, playscripts
ISBN: 9781786820990
Free Home Delivery
on all orders
Pick up orders
from local bookshops