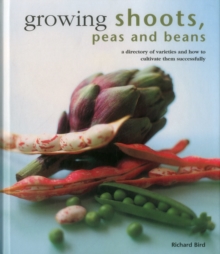 Growing Shoots, Peas and Beans : A Directory of Varieties and How to Cultivate Them Successfully
Hardback
Description
This book presents a directory of varieties and how to cultivate them successfully.
It is an illustrated gardener's guide to the different varieties of shoots, peas and beans, their history and cooking uses.
It includes step-by-step instructions for preparing the soil, sowing under glass, and harvesting and storing.
It offers practical advice on cultivating asparagus, celery, celeriac, globe artichokes, rhubarb, seakale, peas, runner beans, French (green) beans and broad beans.
It includes helpful hints on how to avoid pests and diseases, and what to do when problems occur.
Shoots, peas and beans are some of the choicest and most delicious of the many vegetable crops available to the kitchen gardener.
In this book, the main types are described and illustrated, with useful information about the varieties that can be grown, their history, cultivation requirements and cooking uses.
There is key advice on improving your soil, making compost and preparing the vegetable bed.
A section on practical cultivation explains how to grow and care for each type of vegetable, from sowing to harvest.A must for the novice grower, the book also provides information for the experienced gardener who wants to experiment with new varieties.
Free Home Delivery
on all orders
Pick up orders
from local bookshops