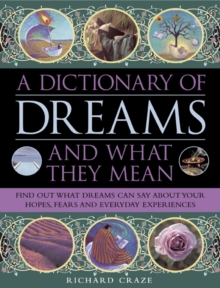 A Dictionary of Dreams and What They Mean : Find Out What Dreams Can Say About Your Hopes, Fears and Everyday Experiences
Hardback
Description
This title helps you find out what dreams can say about your hopes, fears and everyday experiences.
It is an exploration of the unique way dreams can offer a new perspective into the subconscious.
You can unlock the secret symbolism of your own dreams, and come to understand and appreciate what they say about your anxieties, desires and preoccupations.
It provides a lexicon of dream themes, showing how dreams are full of symbolic messages that may not be immediately apparent.
You can learn how to remember the detail of your own dreams, decide what their significance is, and take charge of your sleeping world.
It is beautifully designed and lavishly illustrated with over 400 photographs of common and surreal dream symbols.
We have been fascinated by dreams for centuries. Are they communications from the gods or visions of the future?
Why are they so complex, and where do the images come from?
These questions have been asked by philosophers, priests and psychologists through the ages, and perhaps now, with new scientific research into sleep and dreaming, we are beginning to find the answers. This book discusses how dreams are actually part of the subconscious, full of symbolic messages.
Chapters are divided into themes, such as Nature Dreams, The Cycle of Life, Engaging with People, Living in the World, and Magic and Fantasy, and with these you can begin a therapeutic voyage to understand your dreams and tap into your inner mind and emotions.
This compelling guide celebrates dreams as an important part of the human experience and offers a tool to understand your inner fears, hopes and aspirations.
Information
Format: Hardback
Pages: 160 pages, over 400 photographs
Publisher: Anness Publishing
Publication Date: 19/07/2013
Category: Dreams & their interpretation
ISBN: 9780754827474
Free Home Delivery
on all orders
Pick up orders
from local bookshops