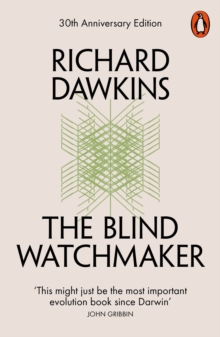 The Blind Watchmaker
Paperback
Description
***30th Anniversary Edition*** Cover note: Each copy of the anniversary edition of The Blind Watchmaker features a unique biomorph.
No two covers are exactly alike.Acclaimed as the most influential work on evolution written in the last hundred years, The Blind Watchmaker offers an inspiring and accessible introduction to one of the most important scientific discoveries of all time.
A brilliant and controversial book which demonstrates that evolution by natural selection - the unconscious, automatic, blind yet essentially non-random process discovered by Darwin - is the only answer to the biggest question of all: why do we exist?
Information
Format: Paperback
Pages: 496 pages
Publisher: Penguin Books Ltd
Publication Date: 06/04/2006
Category: Popular science
ISBN: 9780141026169
Other Formats
EPUB from £5.49
Paperback from £11.09
Free Home Delivery
on all orders
Pick up orders
from local bookshops
Reviews
Showing 1 - 5 of 6 reviews.
Previous | Next
Review by bduguid
16/06/2015
This must be one of the classic books explaining modern evolutionary theory to a popular audience. What Dawkins offers is an ability to articulate his impeccable logic in ways that render often slightly subtle concepts easy to understand."The Blind Watchmaker" is very much a companion to "Climbing Mount Improbable". Both seek to explain how Darwin's theory of natural selection can explain what appears to highly improbably complexity in nature. "Watchmaker" is particularly insistent that not only does natural selection explain it, it's the only explanation that we have.In the current climate, with opponents of science becoming ever more-vocal, the book retains its power in explaining key parts of evolutionary theory, and simultaneously debunking any alternatives and refuting common criticisms.It starts by demonstrating quite what is improbable and complex about nature, using the sonar of bats as an example of a system that appears so well-refined as to be the product of design. Chapters go on to discuss the accumulation and selection of small changes in the genome, the role of DNA in replication, the possible origins of life and sexual selection.Attacks on alternative theories include a detailed commentary on Eldredge and Gould's "punctuationism", disputes in taxonomy, and everything from Lamarckism to creationism. Sometimes there's a sense that Dawkins is fighting battles with scientific colleagues that would be better left to the specialist reader, but personally I found these squabbles helped illuminate the wider subject.There's very little here on the evidence that evolution has occurred, whether from genetics or palaeontology. "Watchmaker's" territory is to explain how it has occurred, and why only natural selection can explain the complexity of life.
Excellent book.Not easy for people with no knowledge in evolutionism theories, but not impossible to read and clearly understand it.Clear sentences and 'light' approach (considering the difficult toopic) of exposure. Brilliant way of argumentating.I've enjoyed the most the first half of the book, in which Dawkins tries to explain how in practical the evolution/mutation of the species happen.I've found the last chapters (the comparisons between different theories of evolution) to be a little bit more difficult to follow.Surely reading it is worthwhile the effort
Review by stefano
16/06/2015
Excellent exposition of the main concepts and consequences of the theory of evolution. Although this does in no way detract from the quality of the book, it is a little curious to see how preoccupied Dawkins seems to be with the critics of evolution. In this respect, his book is structured in the grand manner of an Apology. One thing that I would have liked in a book like this (but maybe Dawkins will write another one) is a sense of what are considered to be the open problems in the theory of evolution, i.e. those spots (which exists in every discipline) where even the best informed scientists have to admit that there are things that we don't understand or seem conflicting.
Review by cwhouston
16/06/2015
For me, this book was preaching to the converted - I have a good understanding of evolution and can't see how any reasonable scientist could argue with the position spelled out by Dawkins in this book. However, I cannot agree at all that he is good at communicating these ideas - his writing and arguments are laboured, convoluted and actually rather confusing. In particular, the description of molecular genetics is awful and without extensive prior knowledge of this I would have to have read the (albeit limited - see below) coverage of this area many times over to understand it.I personally found reading the author's smug or arrogant criticisms of others in his field or opponents amusing - perhaps others might not. The problem for the 'Blind Watchmaker' is that this often appears to be the author's primary objective, rather than explaining evolution - hence my challenge that it is not balanced. In my opinion, this comes at the expense of far too little coverage of recombination, evolution of social behaviour or basic Mendelian genetics, just to name a few areas fundamental to understanding evolution that are either not covered well or at all.In summary, this book might have been better co-authored with a molecular geneticist and an animal behaviourist. The content of the 'Blind Watchmaker' is narrow in scope and not well written. I have `God Delusion' on my shelf and I shall now be selling rather than reading it.
Review by nmarun
16/06/2015
After reading The Selfish Gene, God Delusion and The Blind Watchmaker, I think it's safe to say 'You can read just about any book written by Richard Dawkins'.