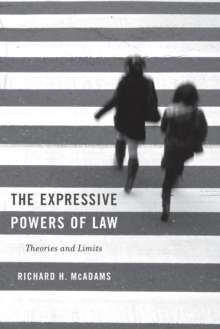 The Expressive Powers of Law : Theories and Limits
Paperback / softback
Description
When asked why people obey the law, legal scholars usually give two answers.
Law deters illicit activities by specifying sanctions, and it possesses legitimate authority in the eyes of society.
Richard McAdams shifts the prism on this familiar question to offer another compelling explanation of how the law creates compliance: through its expressive power to coordinate our behavior and inform our beliefs. "McAdams's account is useful, powerful, and-a rarity in legal theory-concrete...McAdams's treatment reveals important insights into how rational agents reason and interact both with one another and with the law.
The Expressive Powers of Law is a valuable contribution to our understanding of these interactions."-Harvard Law Review"McAdams's analysis widening the perspective of our understanding of why people comply with the law should be welcomed by those interested either in the nature of law, the function of law, or both...McAdams shows how law sometimes works by a power of suggestion.
His varied examples are fascinating for their capacity both to demonstrate and to show the limits of law's expressive power."-Patrick McKinley Brennan, Review of Metaphysics
Information
Format:Paperback / softback
Pages:336 pages, 14 diagrams
Publisher:Harvard University Press
Publication Date:20/03/2017
Category:
ISBN:9780674975484