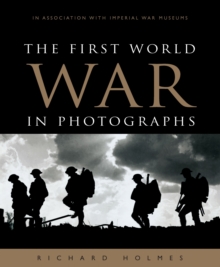 The First World War in Photographs
Hardback
Description
It was the war to end all wars, a conflict without precedent in which millions died and millions more were injured.
It was also one of the first wars from which we have a comprehensive photographic record.
This book presents the conflict in all its appalling and intensely moving detail - covering all the great battles and theatres of operations, from the mud of Flanders to the beaches of Gallipoli.
The photographs capture the patriotism and innocence of the men and women who volunteered for their countries, the reality of trench warfare on the Western Front, the sea battles in oceans around the globe, the terror of gas and mechanized weaponry, and the ultimate sacrifice of a generation.
Information
Format: Hardback
Pages: 320 pages
Publisher: Welbeck Publishing Group
Publication Date: 01/07/2014
Category: Photographic reportage
ISBN: 9780233004198