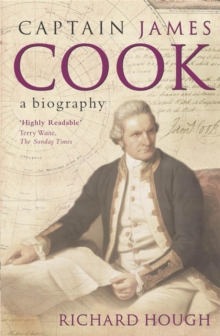 Captain James Cook
Paperback
Description
In Cook's relatively short and adventurous life (1728-79) he voyaged to the eastern and western seaboards of North America, the North and South Pacific and the Arctic and Antarctic bringing about a new comprehension of the world's geography and its people's.
He was the linking figure between the grey specualtion of the early eighteenth century and the industrial age of the first half of the nineteenth century.
Richard Hough's biograpahy is full of new insights and interpretations of one of the world's greatest mariners.
Information
Format: Paperback
Pages: 528 pages, 16pp b/w
Publisher: Hodder & Stoughton General Division
Publication Date: 01/03/2003
ISBN: 9780340825563
Free Home Delivery
on all orders
Pick up orders
from local bookshops
Reviews
Showing 1 - 1 of 1 reviews.
Review by fingerpost
16/06/2015
As a layman without a strong background in history, and no background in 18th century nautical terminology, I found this a fascinating and readable book. Had to skip to a dictionary or atlas from time to time to keep straight what was going on, but Hough's writing style is accessible without ever being simplistic.Cook was an interesting man, ahead of his time in many ways. The bulk of the book details his three voyages in which he served as captain and commander. The first voyage, main purpose to complete an astronomical observation that the Royal Society wanted done on a certain day in a certain spot on earth. The second voyage was primarily to discover the rumored great southern continent. The third voyage, to discover the also rumored Northwest Passage.For the first 2 voyages, Cook was constantly on top of his game and never lost sight of the mission. He was humane, both with his crew and with natives on the various islands that were discovered or visited. He was loved and respected by his officers and crew.Something happenend to Cook which affected him mentally, and on his third voyage he frequently seemed to lose sight of the mission, have erratic and inexplicable explosions of temper, which were sometimes taken out on his crew, and more frequently on the natives that he had been so respectful of on earlier trips. His questionable actions cost him his life on his third voyage, where after first being welcomed on the Hawaiian Islands as a god, he was in the end brutally murdered by these same natives.