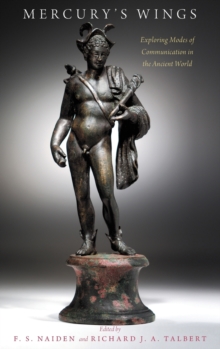 Mercury's Wings : Exploring Modes of Communication in the Ancient World
Hardback
Description
Mercury's Wings: Exploring Modes of Communication in the Ancient World is the first-ever volume of essays devoted to ancient communications.
Comparable previous work has been mainly confined to articles on aspects of communication in the Roman empire.
This set of 18 essays with an introduction by the co-editors marks a milestone, therefore, that demonstrates the importance and rich further potential of the topic.
The authors, who include art historians, Assyriologists, Classicists and Egyptologists, take the broad view of communications as a vehicle not just for the transmission of information, but also for the conduct of religion, commerce, and culture.
Encompassed within this scope are varied purposes of communication such as propaganda and celebration, as well as profit and administration.
Each essay deals with a communications network, or with a means or type of communication, or with the specialfeatures of religious communication or communication in and among large empires. The spatial, temporal, and cultural boundaries of the volume take in the Near East as well as Greece and Rome, and cover a period of some 2,000 years beginning in the second millennium BCE and ending with the spread of Christianity during the last centuries of the Roman Empire in the West.
In all, about one quarter of the essays deal with the Near East, one quarter with Greece, one quarter with Greece and Rome together, and one quarter with the Roman empire and its Persian and Indian rivals. Some essays concern topics in cultural history, such as Greek music and Roman art; some concern economic history in both Mesopotamia and Rome; and some concern traditional historical topics such as diplomacy and war in the Mediterranean world.
Each essay draws on recent work in the theory ofcommunications.
Information
Format: Hardback
Pages: 456 pages
Publisher: Oxford University Press Inc
Publication Date: 08/06/2017
Category: Communication studies
ISBN: 9780195386844