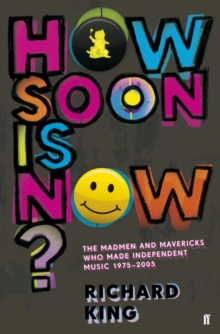 How Soon is Now? : The Madmen and Mavericks who made Independent Music 1975-2005
Paperback
Description
"If you look at all the people involved - Ivo, Tony Wilson, McGee, Geoff Travis, myself - nobody had a clue about running a record company, and that was the best thing about it". (Daniel Miller, Mute Records). Richard King's "How Soon Is Now?" is a landmark survey of the record labels that make up the backbone of the independent music industry and the hugely inspirational, eccentric, impulsive and visionary figures who created them.
One of the most tangible aftershocks of punk was its urgency to prompt individuals into action.
Document your reality: do it yourself. From this, a generation was inspired and, with often zero financial planning or business sense, in bedrooms, garages and sheds, labels such as Factory, Rough Trade, Mute, 4AD, Beggars Banquet, Warp, Creation and Domino began, shifting the musical landscape and trading on an ethos and identity no brand consultant would now dare dream of.
Musicians were encouraged to do whatever the hell they wanted and damn the consequences. From humble beginnings, some of our most influential artists were allowed to thrive: Orange Juice, New Order, Cocteau Twins, Depeche Mode, Happy Mondays, The Smiths, Sonic Youth, Primal Scream, My Bloody Valentine, Aphex Twin, Autechre, Teenage Fanclub, Broadcast, The White Stripes, Franz Ferdinand, and Arctic Monkeys, to name but a handful.
This is the story, set to an incredible soundtrack, of the enormous scale of the passions, the size of the egos, and the true extent of the madness of the mavericks who had the vision and bloody-mindedness to turn the music world on its head.
Information
Format: Paperback
Pages: 640 pages
Publisher: Faber & Faber
Publication Date: 05/04/2012
ISBN: 9780571243907
Other Formats
Paperback from £10.25
EPUB from £11.99
Free Home Delivery
on all orders
Pick up orders
from local bookshops
Reviews
Showing 1 - 1 of 1 reviews.
Review by nigeyb
16/06/2015
If you have any interest in British independent music 1975-2005 (with an emphasis on the 1980s); you feel an affinity with the independent labels of that era (Rough Trade, Factory, Postcard, 4AD etc.); and/or you enjoy well researched and readable books about popular music, then I would say you will find much to enjoy in Richard King's "How Soon Is Now? The Madmen & Mavericks Who Made Independent Music". It is also a great companion book to Simon Reynolds' "Rip It Up and Start Again", and it is equally entertaining and informative.As with all good books about music, it inspired me to go away and explore or revisit some of the key tracks from the era. For example, I'd completely forgotten about Colourbox despite loving their music when it was released - thirty years on they still sound wonderful. I was also very interested to read how a massive hit single effectively stopped their career in its tracks.Looking back from the detached perspective of 2013, the indie labels of the 1980s, and the personalities that were associated with them, seem even more magical and remarkable. It was a remarkable era for popular music and this book is a compelling reminder of a glorious and important musical era. The book concludes in 2005 when, in a reverse of the rest of the music industry, many modern independent labels are prospering relative to the major labels. That said, if this book proves one thing, it's that it is very difficult to run a small and successful independent record label - and always has been.