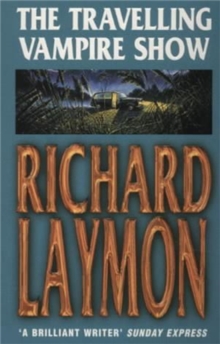 The Travelling Vampire Show : An unforgettable, spine-chilling horror novel
Paperback
Description
On a hot August morning in 1963, the rural town of Grandville is covered with fliers announcing the coming of something extraordinary - a one-night-only performance of The Travelling Vampire Show, featuring Valeria, the only known vampire in captivity. For three local teenagers, it's a show they don't want to miss. The trouble is, the show starts at midnight and they're supposed to be home by then. And in any case, Janks Field, where the show will take place, has been declared off-limits because of its own sinister history. But they can't just sit at home and let Valeria do her thing without them, can they?
Information
Format: Paperback
Pages: 448 pages
Publisher: Headline Publishing Group
Publication Date: 07/12/2000
ISBN: 9780747258292
Free Home Delivery
on all orders
Pick up orders
from local bookshops
Reviews
Showing 1 - 3 of 3 reviews.
Review by bookmonkey00k
16/06/2015
On Saturday I saw the film "Cirque de Freak: The Vampire's Assistant," in which a young boy goes to a shady travelling carnival, meets up with vampires and has his entire life changed. The movie was pretty good, and incidentally, I totally bought John C. Reilly as a vampire. Overall it was a great flick for me to enjoy with my vampire loving 12-year-old. When I think about stories involving travelling vampire shows for myself, I've got to admit, my personal favourite is definitely Richard Laymon's The Travelling Vampire Show.The Story itself focuses on three young kids, Dwight - our narrator, Slim - his tomboy love-interest, and Rusty - his best friend. The novel is set in 1963 and has a very nostalgic vibe throughout. Basically the three teens hear about this upcoming show, try to sneak an early peak with unfortunate results, and the show itself, featuring a very sexual vampire called Valeria, ends up being the climax of the book. The whole books balances expertly between a nostalgic look at being 16 and a horrific look at the actions surrounding the show - the violence is pretty extreme. I guess this may not be your grandmothers travelling vampire show book.Richard Laymon died at age 54 of a heart attack in 2001. His works, although critically praised here (both Stephen King and Dean Koontz were fans), were most popular in Europe. I haven't read anything else by him yet, but this novel, along with David Morrell's Creepers, was one of the best unheard of titles I found while reading the Bram Stoker Awards.
Review by shob.dw
16/06/2015
During an Indian Summer of '63, 3 teenagers decide to sneak out to see a Vampire show meant only for adults. Laymon gives a blow-by-blow account of the three best-buds and their scary adventures leading to it. Despite a loose story-line, and a drawn out narration that details every little step and turn that they make, (have no idea how these kids walk so much in one day and still be standing, much less running at the end of the day), the book just manages to hold you in. My only gripe is the burgeoning hormones of these teenagers and fantasies tend to be tiresome once too often, and the ending is not one of his better ones. Ok to pass the time tho.
Review by Marlene-NL
16/06/2015
O what a disappointment. The start was okay but then there were at least 2 chapters spend on how the main character is lusting for his teenage friend. I like a bit of sex in the books i read but it was so much it made me annoyed. Then i kept on reading but the end was so ridiculous. WTH! I've definitely read much better book by this author and I do not understand this book won the Bram Stoker award. Must have been a bad year. I did like the start and I do enjoy his writing.