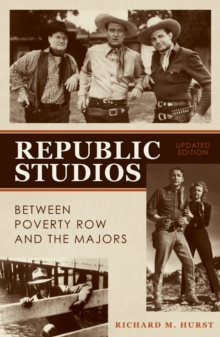 Republic Studios : Beyond Poverty Row and the Majors
Paperback / softback
Description
The Hollywood studios of the 1930s, '40s, and '50s were rarely concerned with film as an art form; this was especially true of those specializing in the B film.
Of these, Republic Pictures Corporation was the finest.
Their quality B action pictures and serials influenced the industry and the moviegoing public, resulting in greater public acceptance.
The Republic's roster of talent included John Wayne, Roy Rogers, and Gene Autry, and the serials it produced featured such iconic figures as Dick Tracy, Captain America, Zorro, and The Lone Ranger. In Republic Studios: Between Poverty Row and the Majors, author Richard Hurst documents the influence and significance of this major B studio. Originally published in 1979, this book provides a brief overview of the studio's economic structure and charts its output.
Hurst examines the various genres represented by the studio, including the comedies of Judy Canova and westerns featuring Autry, Rogers, and The Three Mesquiteers.
The book addresses the non-series B films Republic produced, as well as rare A films such as Wake of the Red Witch, Sands of Iwo Jima, and John Ford's The Quiet Man, all of which starred John Wayne. This new edition of Republic Studios, with two additional expanded chapters on serials, a new introduction, and an epilogue, brings the Republic story up to date.
This fascinating look at Republic chronicles the impact the studio had on American cultural history from the mid-1940s to the mid-1950s and examines the studio's role in Hollywood history and its demise in the late '50s.
Information
Format: Paperback / softback
Pages: 288 pages
Publisher: Scarecrow Press
Publication Date: 15/03/2007
Category: Films, cinema
ISBN: 9780810858862