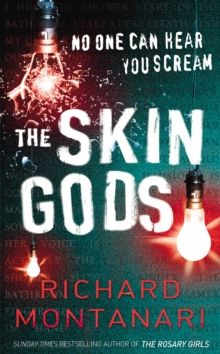 The Skin Gods : (Byrne & Balzano 2)
Paperback
Description
The streets of Philadelphia are blistering in the summer heat, the homicide rate is soaring and the nights belong to the mad.
Detectives Kevin Byrne and Jessica Balzano are prowling the streets with a growing sense of unease.
Where next will evil rear its ugly head? When a series of seemingly unrelated crimes shatter the restless silence of the city, their worst fears are confirmed.
A beautiful secretary is slashed to death in a grimy motel shower.
A street hustler brutally murdered with a chainsaw. Piece by piece, a strange and sickening puzzle presents itself: someone is meticulously recreating Hollywood's most well-known and horrifying murder scenes, capturing them on film and inserting the clips into videos - for an unsuspecting public to find.
While Kevin Byrne begins furtive investigations of his own, Jessica Balzano goes undercover to work the steaming back alleys of Philadelphia, entering a violent world of underground film, pornography and seedy nightclubs, hidden to all but the initiated.
Discovering that none of The Actor's victims are as innocent as they appear to be, the two detectives arrive at a terrifying reality: They are not just chasing a homicide suspect.
They are stalking evil itself ...
Information
Format: Paperback
Pages: 544 pages
Publisher: Cornerstone
Publication Date: 01/02/2007
Category: Thriller / suspense
ISBN: 9780099486893
Free Home Delivery
on all orders
Pick up orders
from local bookshops
Reviews
Showing 1 - 1 of 1 reviews.
Review by eleanor_eader
16/06/2015
It amazes me how quickly some authors – Montanari included – shape up their story-telling ability between first and second-in-a-series novels. Not that there was anything overtly wrong with <i>The Rosary Girls</i>, but if I hadn't already bought <i>The Skin Gods</i>, I might have quickly forgotten my urge to try another, and the author would have fallen by the wayside of my reading journey. In the Skin Gods, broken but still-in-the-game Detective Kevin Byrne and his partner Jessica Balzano discover that the spliced-to-videotape murder of a young woman is just the beginning of a series of murders-by-film-homage. As Jessica follows 'The Actor's deliberately seeded clues and Byrne spends his enforced recuperation leave pursuing personal vendettas, the plot winds in seemingly random directions, the only straight line being from one murder to the next. There's something punchy, grass-roots gutsy about Montanari's storytelling, so that even when he moves over old ground (forensic procedure, relationships between cops, the habits of the cops themselves) they feel like important parts of the storyline rather than a writer deliberately trying to inject authenticity, thus gaining authenticity <i>and</i> freshening well-trodden routes. It helps that the stories themselves are fresh, diverting and quite gruesome.Two mild disappointments – <b>[spoiler warning]</b> for the second time, a principal character's family is placed in danger and rescued last moment, and for the second time the motive is revenge for a cop's actions. The details are different enough that I was still able to enjoy the story, but it did occur to me to wonder if Montanari's plot wheel is stuck. And, finally, I still don't know what to make of Byrne's 'prescient' ability. It's never used to solve the identity of the bad guy, but has bumped forward progress when time has been an issue, so is this dues ex machine, or a sort of sub-genre in play? It has not, so far, made me put down either story in disgust, so I guess I'll keep going – I have the third book here, too, after all.
Also in the Byrne & Balzano series | View all