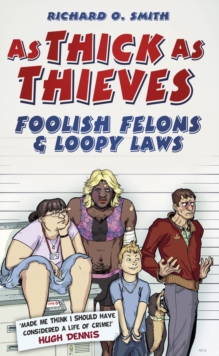 As Thick As Thieves : Foolish Felons & Loopy Laws
Hardback
Description
Standing in an ID parade of incompetence, waiting to be picked out as Britain's stupidest criminal, we've assembled a line-up of bungling burglars, asinine assailants and thick thieves.Dipping their stolen bucket of opportunity into the well of other people's stuff, only to fall into the well themselves (and get the bucket stuck on their head), this book chronicles the crimes against common sense committed by these dim-witted deviants.
Also featured in this compendium of criminal idiocy are: the bank robber who used a No. 72 bus as his getaway vehicle (it was almost as though the police knew where he was headed to next); the bag snatcher who robbed an elderly lady of the bad she'd just used to clear up responsibly after her dogs; and the burglars who left their four-year-old son, and a wallet containing full ID, at the crime scene.
Also rounded up for routine questioning are the bank robbers who gifted the police a dropped map marking the preferred route from bank to hideout, and armed robbers who raided a laundry van to steal used towels whilst their intended target, a wages van, drove slowly past.
Charged with being in possession of an idiotic plan and sentenced to a life term of stupidity, they're reversing the getaway vehicle into a police car and handing over their belt to the custody sergeant with the inevitable consequence of their trousers falling down.
As thick as thieves indeed. It's a case (admittedly, a rather easy one) for the police to dial M for Muppet.
This is an ideal gift book that will make you laugh out loud.
Information
Format: Hardback
Pages: 192 pages
Publisher: The History Press Ltd
Publication Date: 01/09/2013
Category: True crime
ISBN: 9780752487205