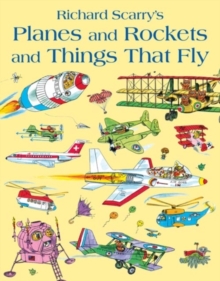 Planes And Rockets And Things That Fly
Paperback
Description
An amazing new Richard Scarry collection filled with hilarious stories about jet planes, rockets, spacecraft and other things that fly!
It's the perfect partner to Cars and Trucks and Things that Go and set to be a new Scarry favourite. In this collection Huck takes flying lessons, we learn how planes and birds fly, the cat family goes to the air show, and Wolfgang Wolf, Benny Baboon and Harry Hyena take a trip to the moon in their own rocket!
Packed with amazing Scarry detail and with stories that can be read again and again, this book will give hours of fun to fans of planes, rockets and flying!
Information
Format: Paperback
Pages: 48 pages
Publisher: HarperCollins Publishers
Publication Date: 01/07/2011
Category: Picture storybooks
ISBN: 9780007432868
Free Home Delivery
on all orders
Pick up orders
from local bookshops
Reviews
Showing 1 - 1 of 1 reviews.
Review by LynleyS
16/06/2015
I've heard Richard Scarry's books described as 'look books', and I really love the concept. We're told picture books are essential for children because they develop language skills; well, if reading picture books at kids is good for their language skills, I'm sure look books are better, since even the most unintuitive adult co-reader will find things to talk about.This is an old book which continues to be published in soft-cover form -- I found this copy at a big chain store. I bought it for a six-year-old girl, to counterbalance all of the girl-focused things that she is given.This book is obviously aimed at boys, as obviated in the first sentence:'Father cat took Huckle and Little Sister to the airport to meet Rudolf, the famous pilot.'Although I'm no fan personally of gender division in any form, I can live with it. What I find harder to accept is when boys read stuff that's for them but which also excludes girls. Notice that Huckle gets a name whereas the female character is not. She is defined only by her relationship with the boy protagonist. Since this book continues to be published in its original form, the retro, sex-exclusive language of yesteryear grates. It is assumed, naturally, that a pilot will be a man:"The pilot sits here," he said. "He flies the aeroplane with the stick, the throttle and the pedals."There's a lot to like about these books still, and I can see why they're still being printed. Enthusiasts of children's literature tend to fall into two camps, and one of those camps is much bigger than the other, and they say that we shouldn't alter children's classics of yesteryear. Others don't mind when The Famous Five is republished minus the most offensive and outdated stereotypes. I'm of this camp. I'd like to see the work of Richard Scarry updated for a modern audience, for a world in which girls might actually grow up to be pilots themselves rather than background little sisters.I did make sure to ask my daughter if she thought girls could fly aeroplanes too, and I'm sure this was a leading question, and so she answered with a resounding 'Yes!'