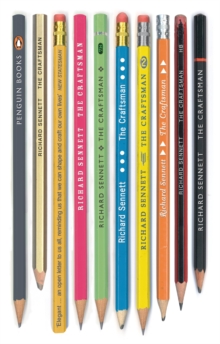 Description
Provocative and enlightening, Richard Sennett's The Craftsman is an exploration of craftsmanship - the desire to do a job well for its own sake - as a template for living. Most of us have to work. But is work just a means to an end? In trying to make a living, have we lost touch with the idea of making things well? Pure competition, Sennett shows, will never produce good work.
Instead, the values of the craftsman, whether in a Stradivari violin workshop or a modern laboratory, can enrich our lives and change the way we anchor ourselves in the world around us. The past lives of crafts and craftsmen show us ways of working - using tools, acquiring skills, thinking about materials - which provide rewarding alternative ways for people to utilise their talents.
We need to recognize this if motivations are to be understood and lives made as fulfilling as possible. 'Lively, engaging and pertinent ... a lifetime's learning has gone into the writing of this book' Roger Scruton, Sunday Times 'An enchanting writer with important things to say' Fiona MacCarthy, Guardian 'Enthralling ...
Sennett is keen to reconnect thinking with making, to revive the simple pleasure in the everyday object and the useful task.
There is something here for all of us' Edwin Heathcote, Financial Times 'A masterpiece' Boyd Tonkin, Independent Richard Sennett's previous books include The Fall of Public Man, The Corrosion of Character, Flesh and Stone and Respect.
He was founder director of the New York Institute for the Humanities, and is now University Professor at New York University and Academic Governor and Professor of Sociology at the London School of Economics.
Information
Format: Paperback
Pages: 336 pages
Publisher: Penguin Books Ltd
Publication Date: 01/02/2009
Category: Popular philosophy
ISBN: 9780141022093
Free Home Delivery
on all orders
Pick up orders
from local bookshops
Reviews
Showing 1 - 1 of 1 reviews.
Review by jcbrunner
16/06/2015
Sennett's book treats an important question. The skilled manual worker who has been crucial in and to the development of civilization does not fare well today, Instead of repairing goods, we simply replace them. The tailors of yore who mended garments has been replaced by H & M's one season wear, produced by robots and cheap labor. IKEA's self-assembled furniture pushes cabinetmakers and joiners into an upmarket niche. CAD and office software suites have made the skills of most draftsmen and desk warriors obsolete. Even Sennett's own former colleagues, musicians face stiff competition from computers that can double as a complete orchestra. So it is both timely and important to discuss what happens to the craftsmen.The first part of Sennett's book is the one where its main value lies. It is both a history of the craftsman and a discussion of the importance of tacit knowledge sharing in the workshop. The shared community, organized in guilds, is one of the important elements modern successor jobs lack. This pushes the homo faber back towards the animal laborans, Countries with a craft culture such as Jaoan and Germany treat their skilled workers much better than countries without a craft culture (UK, US) with their emphasis on unskilled jobs.Unfortunately, Sennett then removes himself from the real discussion in the next two parts, preferring to elaborate on the theme of the craftsman as artist. This is valid only for a minority of craftsmen. While the price for most services performed by craftsmen approaches the level one pays for artwork, what is wanted and what is delivered mostly isn't art but a competent, adequate job, Redefining the craftsman as an artist is certainly a solution to the problem, but the limited number of artists required will never be adequate to replace the legion of redundant craftsmen. On the other hand, there is a quaint picture book about the numerous professions that never made it into the 20th century. Is it just that the hand-based crafts are disappearing, replaced by head-based/symbolic crafts such as systems engineers and project managers?Most architects are not even close to the mastery of an Adolf Loos. They design and build (cheap) offices and houses. Prefab elements and configuration kits challenge even those highly skilled crafts. Sennett contrasts the houses built by pro Loos and the amateur Wittgenstein, a difference in skill and constraints. I took the occasion to visit the Wittgenstein House here in Vienna, now occupied by the Bulgarian cultural embassy. Its main flaw is its failure to respect a Palladian hierarchy of room sizes. The door handles set at around 1,70 m aren't helpful either. In a deeper sense, it shows that architecture is a social craft. Deep-pocketed autodidacts such as Thomas Jefferson and Ludwig Wittgenstein may remodel their houses to eliminate their mistakes. Learning a craft means absorbing the lessons of the successes and mistakes of countless forebears, the essence of a craft, a knowledge all too quickly lost. The book unfortunately doesn't answer the question about the future of the craftsman. The good first part is marred by the cop-out of the next two parts. Craft is more than delivering quality work.