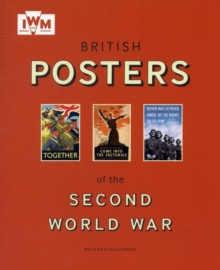 British Posters of the Second World War
Paperback
Description
Keep calm and carry on. In 1939, Britain s Ministry of Information produced this now-ubiquitous reminder to its citizens in the event of widely predicted air attacks.
But in the six consecutive years before Germany s surrender to Allied forces, the British public would feel keenly both the physical and moral hardships of war.
To boost morale and raise awareness of how citizens efforts might helpor hinderthe wartime effort, one of the most effective forms the British government had at its disposal was the poster. "British Posters of the Second World War" presents one hundred posters from this important period in world history.
Some proclaimed in bold type that Victory of the Allies is assured and featured stalwart British soldiers alongside exaggerated enemy figures.
Others, however, hung on the walls of bus and railway stations, town halls, and pubs, called for continued self-sufficiency, urging Britons to raise chickens and join pig clubs.
As the threat of espionage came to be regarded as ever-present, another category of posters cautioned soldiers and civilians alike against talking about the war: Furtive Fritz is always listening warned one; another, Keep mumshe s not so dumb. Drawing on the Imperial War Museum s impressive collection of materials related to conflicts involving Britain in the twentieth and twenty-first centuries, "British Posters of the Second World War" explores these campaigns and many others with an introduction and explanatory text by the museum s senior curator, Richard Slocombe."
Information
Format: Paperback
Pages: 96 pages
Publisher: Imperial War Museum
Publication Date: 01/02/2010
ISBN: 9781904897927
Free Home Delivery
on all orders
Pick up orders
from local bookshops
Also by Richard Slocombe