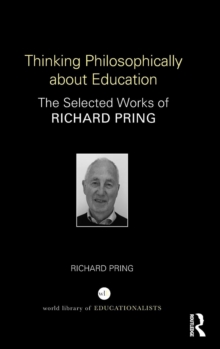 Thinking Philosophically about Education : The Selected Works of Richard Pring
Hardback
Description
In the World Library of Educationalists series, international experts themselves compile career-long collections of what they judge to be their finest pieces - extracts from books, key articles, salient research findings, major theoretical and practical contributions - so the world can read them in a single manageable volume.
Readers will be able to follow the themes and strands and see how their work contributes to the development of the field. Thinking Philosophically about Education highlights several key writings from Richard Pring's international career in education, providing a historical perspective in relation to current debates about philosophy of education in the UK and internationally, drawing attention to issues of current concern. The text explores key themes such as critical realism, teachers as researchers and a way forward for policy through carefully selected examples from Richard Pring's writings.
A short introduction is provided for each chapter to help readers to understand the significance of what is presented and how this relates to other chapters in the book. Comprehensible and articulate, this selection displays the knowledge and rigor that has made Richard Pring one of the world's most respected and eminent scholars of the field of philosophy and education.
Comprising Richard Pring's personal selection of what he considers to be his influential writing from book chapters and journal articles throughout his career, it will be of interest to all followers of his work and any reader interested in the development of philosophy and education in the UK and internationally.