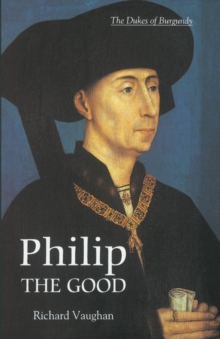 Philip the Good : The Apogee of Burgundy
Paperback
Description
Under Philip the Good, grandson of the founder of the duchy's power, Burgundy reached its apogee.
Professor Vaughan portrays not only Philip the Good himself, perhaps the most attractive personality among the four great dukes, but the workings of the court and of one of the most efficent - if not necessarily the most popular - administrations in fifteenth-century Europe.
The complex diplomatic history of Philip the Good's long ducal reign (1419-1467) occupies much of the book, in particular Burgundy's relations with England and France.
The central theme is Philip the Good's policy of territorial and personal aggrandisement, which culminated in his negotiations with the Holy Roman Emperor for a crown. And due attention is given to the great flowering of artistic life in Burgundy which made Philip's court at Dijon an important cultural centre in the period immediately preceding the Renaissance.
All this is based on the close study of the considerable surviving archives of Philip's civil service, and on the chronicles and letters of the period. Philip the Good provides a definitive study of the life and times of the ruler whose position and achievements made him the greatest magnate in Europe during what has been called "the Burgundian century".
Information
Format: Paperback
Pages: 520 pages, 8 Line drawings, black and white; 9 Illustrations, black and white
Publisher: Boydell & Brewer Ltd
Publication Date: 18/01/2003
Category: European history
ISBN: 9780851159171
Free Home Delivery
on all orders
Pick up orders
from local bookshops
Reviews
Showing 1 - 1 of 1 reviews.
Review by antiquary
27/08/2015
Very full (400 pp.) book on Philip the Good, the greatest of the Valois dukes of Burgundy; begins with his taking over after his father's murder, but suggests he did not try very hard to avenge the rime on the true perpetrator (Charles VII of France) --shows him more preoccupied with expanding his holdings in the Low Countries --Brabant, Hainault, Holland etc. Shows Jacqueline of Holland --who is usually seen as pathetic once abandoned by Duke Humphrey of Gloucester--as actively putting up quite a hard fight, and getting more real English help, until an English army got wiped out despite its archers. After the early successes, culminating in the foundation of the order of the Golden Fleece, things go downhill due to various revolts etc. Vaughan ends up by concluding Philip was too devoted to pleasure and impractical crusade projects and lived too long, leaving a divided state (or collection of states) to Charles the Rash. As with the other books in the Boydell republication of this classic series, it has a long introduction on more recent scholarship and an updated bibliography.