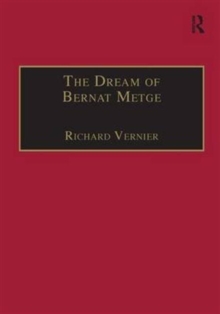 The Dream of Bernat Metge
Hardback
Description
The Dream of Bernat Metge is the first English translation of Lo Somni, a prose dialogue written around 1397 by the Catalan humanist Bernat Metge (?1340-1413).
It stands as a noteworthy example of nascent humanism and a vivid document of contemporary customs in the Crown of Aragon.
As a document touching on eschatology, faith and scepticism, politics, classical mythology, traditional mysogyny and current fashions, it holds appeal for scholars in many fields. This is one of the few modern editions of the text available, and the only one presented in English. Richard Vernier provides an extensive original introduction, as well as an annotated translation of the text. In the introduction, Vernier places the text in its historical and cultural background, and supplies a brief biography of the author.
He discusses literary antecedents of Lo Somni, poised as it is between medieval allegory and humanistic discourse, and its value in the development of Catalan prose.
He also traces the history of the text from the time it was written through its descent into oblivion, to its rediscovery in the nineteenth century. This first English-language edition of Lo Somni will interest historians and scholars of literature, philosophy and Romance languages.
This translation provides a unique opportunity for comparative studies with other Western European medieval texts and authors.
Information
Format: Hardback
Pages: 128 pages
Publisher: Taylor & Francis Ltd
Publication Date: 09/08/2002
ISBN: 9780754606918
Other Formats
EPUB from £40.49
PDF from £40.49