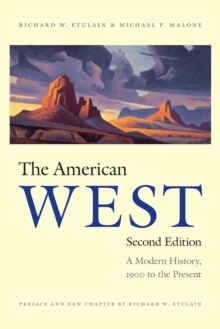 The American West : A Modern History, 1900 to the Present
Paperback / softback
Description
The American West is the only book-length historical overview of the post-1900 American West.
This balanced, comprehensive account of the modern West skillfully delineates the changes and resulting complexities that characterize the twentieth-century West.
The authors consider the ways in which urban, service, and computer-related industries have replaced rural, extractive, and agricultural economies.
They also trace the steps by which western politics shifted from New Deal principles to more conservative, Republican policies.
The book examines the roles of racial and ethnic groups in the recent West, emphasizing the challenges facing Native Americans, Hispanics, Asians, and African Americans in the region.
Other chapters discuss western women, families, and urban developments.
Thorough coverage of cultural topics-literature, art, films, religion, and education-includes lively descriptions of important individuals and memorable events.
This Bison Books edition, which features a new chapter covering the mid-1980s to 2005 and bibliographic essays on books about the modern American West, offers the most up-to-date discussion of the contemporary American West available.
Information
Format: Paperback / softback
Pages: 360 pages, 2 maps, 47 photographs, 7 tables
Publisher: University of Nebraska Press
Publication Date: 01/11/2007
Category: History of the Americas
ISBN: 9780803260221