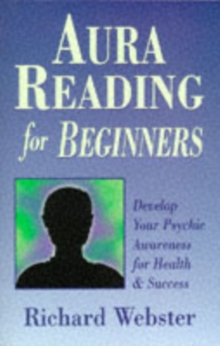 Aura Reading for Beginners : Develop Your Psychic Awareness for Health and Success
Paperback
Description
Fully comprehend those around you by learning to read their aura, the energetic manifestation of the soul.
Watch for a dirty red haze around those who have just lost their temper, or an expanded aura for those doing philanthropic deeds.
Learn to see auras through the proven methods taught by Richard Webster in his psychic training classes, including exploring the chakra system and learning how to restore balance.
Then, begin to imprint your desires into your aura to attract what you want in your life.
These proven methods for seeing and reading auras will help you: --Interpret the meanings of colors in the aura--Find a career that is best suited for you--Relate better to the people in your life--Enjoy excellent health--Discover areas of your life that you need to work on--Imprint what you want in your future into your aura --Discover the signs of impending ill health, drug abuse, and pain--Change the state of your aura and stimulate specific chakras through music, crystals, color
Information
Format: Paperback
Pages: 208 pages, ILL
Publisher: Llewellyn Publications,U.S.
Publication Date: 17/03/1998
ISBN: 9781567187984
Free Home Delivery
on all orders
Pick up orders
from local bookshops
Reviews
Showing 1 - 2 of 2 reviews.
Review by Cecilturtle
16/06/2015
Very much a how-to book, this manual is essentially a reference guide on how to feel for auras, interpret colours and find out about external influences (positive and negative)on our auras. Very accessible and easy to read, it does not pretend to give any scientific explanation other than that an aura is the radiating energy from each of us.
Review by EmScape
16/06/2015
Very well-researched and informative, <u>Aura Reading for Beginners</u> is an excellent primer. It includes activities, exercises and tips, as well as a couple of examples of how to do an aura reading. Webster several times describes what colors mean within different areas of the aura, as well as includes an appendix of key words relating to each color, and this can get a little repetitive, but it is better to be too thorough than leave something out. This is a very subjective process, and Webster stresses that each individual needs to find his or her own interpretations, but gives some excellent jumping-off points. My only complaint is that most of the exercises, especially the initial ones need to be done with a partner and not on one's own. It's easy to see why that's necessary, but it can be very difficult to find someone one trusts enough to perform these exercises with who also has an interest in this subject matter and doesn't sabotage one's attempts with their cynicism. This is not a book to be read straight through, in fact I would recommend the reader completely master one technique prior to moving on to the next chapter. I didn't do it this way, and I wish I would have.