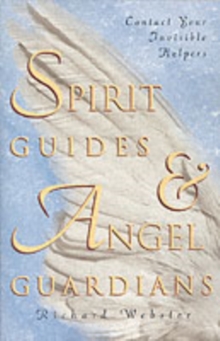 Spirit Guides and Angel Guardians : Contact Your Invisible Helpers
Paperback
Description
They come to our aid when we least expect it, and they disappear as soon as their work is done.
We all regularly receive messages from our guardian angels and spirit guides but usually fail to recognize them.
This book aims to help the reader to realize when this occurs.
It contains numerous case studies that show how angels have touched the lives of others.
Information
Format: Paperback
Pages: 368 pages
Publisher: Llewellyn Publications,U.S.
Publication Date: 18/05/1998
Category: Tribal religions
ISBN: 9781567187953
Free Home Delivery
on all orders
Pick up orders
from local bookshops
Reviews
Showing 1 - 2 of 2 reviews.
Review by jdr857
27/08/2015
An interesting, easy to follow book to assist one in connecting with both their guardian angels and their spirit guides. I found the details and exercises to be useful and informative. The unfortunate aspect of the book is that the exercises and tips require the reader to take time everyday to practice the techniques, which for many, may be difficult to do given our hectic lives. Overall though this book is a great addition to your spiritual library and I would recommend it highly.
Review by IonaS
27/08/2015
The author has penned many books on related "occult" subjects. I found this one ok, but not brilliant. I didn't get to contact any angels or spirit guides, but I did feel a shift in that I now feel I can and eventually will obtain contact with these, and that is a good start.The book is divided into two parts, the first on angel guardians and the second on spirit guides. In Part One we are provided with information about the history of angels and about seven Archangels. These are Michael, Gabriel, Raphael, Uriel, Raguel, Sariel and Remiel. I missed Ariel. Metatron is also mentioned. He was originally a human being, Enoch, who was transformed into an angel. The author refers to him as "King of the Angels". We're also told about the "Queen of Angels". The Virgin Mary. This must be the one I know as Mother Mary, but Webster doesn't mention this appellation.We are given useful instructions on how to invoke the Archangels.We're told that our guardian angels will communicate to us through our thoughts and feelings, our intuition and our dreams. Though I've asked many times, I have never seen or heard from my guardian angel in my dreams. I did once in my youth get a sudden knowing of something I had to do, which I did, and this turned out to save my life and that of others too. This was perhaps my guardian angel, though I didn't know that at the time.One chapter that I didn't appreciate was about how to create your guardian angel if you can't contact it by the other methods mentioned. The author suggested that angels were just thoughtforms and therefore we could create one. This may be so, but I didn't like the idea. I like to regard the angels as real.We learn which Archangels correspond to our star signs. Michael rules over Aries, Leo and Sagittarius, Gabriel over Cancer, Scorpio and Pisces, Raphael over Gemini, Libra and Aquarius, and Uriel over Taurus, Virgo and Capricorn. The author gives us four methods by which to call the Archangels to us. He doesn't suggest that these also are thought forms, but I expect he thinks they are, since they also are angels,He provides us with a prayer by which we can help heal others. It reads "May the healing power of Jesus Christ descend upon (person's name) and may the holy angels encompass him (or her)". This prayer activates Raphael and the other healing angels to come to the person's aid.Part One contains several additional interesting chapters, including one on creating an angel altar.In Part Two of the book we learn about spirit guides, which the author tells us are people who have passed over into the next life. They are here to help and guide us when we ask for advice. We should ask for help only when it is really necessary.Spirit guides are usually, but not always, deceased relatives. I feel it would be nice to know who these are, and how many we have.Much information is provided about spiritualism, including about the Fox sisters and the famous medium Daniel Dunglas Home.A chapter about ways to contact spirit guides contains sections about planchettes and Ouija boards, automatic writing, table-tipping, using a pendulum, etc. In other books we are warned about using Ouija boards for fear of picking up negative spirits. (In my youth a friend did so and couldn't get rid of it again.) I will try automatic writing again myself.In automatic writing the pen "moves over the page directed by a power other than the conscious mind of the person holding it".I did find this book worth reading, but just not particularly exciting. The author provides various useful exercises and pieces of advice which could help us in our quest for contact with our angel guardians and spirit guides,