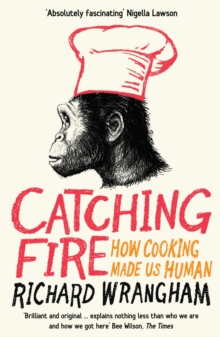 Catching Fire : How Cooking Made Us Human
Paperback
Description
In this stunningly original book, Richard Wrangham argues that it was cooking that caused the extraordinary transformation of our ancestors from apelike beings to Homo erectus.
At the heart of Catching Fire lies an explosive new idea: the habit of eating cooked rather than raw food permitted the digestive tract to shrink and the human brain to grow, helped structure human society, and created the male-female division of labour.
As our ancestors adapted to using fire, humans emerged as "the cooking apes".
Covering everything from food-labelling and overweight pets to raw-food faddists, Catching Fire offers a startlingly original argument about how we came to be the social, intelligent, and sexual species we are today. "This notion is surprising, fresh and, in the hands of Richard Wrangham, utterly persuasive ...
Big, new ideas do not come along often in evolution these days, but this is one." -Matt Ridley, author of Genome
Free Home Delivery
on all orders
Pick up orders
from local bookshops
Reviews
Showing 1 - 4 of 4 reviews.
Review by samsheep
16/06/2015
Plenty of food for thought (ha) and very well written to be readable yet scientifically persuasive. Found it a bit depressing when he talked about how women became slaves to the cooker (or fire) as they needed someone stronger to help them prevent their food being stolen. The housewife was born.
Review by RefPenny
16/06/2015
Richard Wrangham presents convincing evidence for the importance of the discovery of cooking to human evolution. Various chapters look at the problems of raw food diets, our physical adaptations to eating cooked food, the energy difference when food is cooked, evidence for when cooking began, how the switch to cooked food allowed for brain growth and how cooking led to different gender roles. This book is comprehensively referenced but the writing style is very accessible.
Review by janglen
16/06/2015
This is a very interesting theory. I was not totally convinced by the latter section of the book which provides an explanation for why cooking became a female role, and why this inevitably meant subservience to men. However, Wrangham is on the whole very persuasive, especially in the link he makes between cooking and the evolution of a larger brain.
Review by jmoncton
16/06/2015
OK, forget the raw food movement. This book presents an interesting theory that a breakthrough moment in human evolution was when man began cooking his food. Cooking the food allowed more calories to be absorbed, changing the shape of primates from having large digestive tracts to large brains. Although the book is very technical, it is presented in a way such that people without a background in biology or anthropology can easily understand. I especially enjoyed the chapters on how social roles developed - males hunting and females cooking. Very informative!