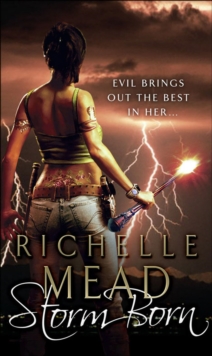 Description
Just typical. No love life to speak of for months, then all at once, every horny creature in the Otherworld wants to get in your pants...
Eugenie Markham is a powerful shaman who does a brisk trade banishing spirits and fey who cross into the mortal world.
Mercenary, yes, but a girl's got to eat. Her most recent case, however, is enough to ruin her appetite.
Hired to find a teenager who has been taken to the Otherworld, Eugenie comes face to face with a startling prophecy - one that uncovers dark secrets about her past and claims that Eugenie's first-born will threaten the future of the world as she knows it.
Now Eugenie is a hot target for every ambitious demon and Otherworldy ne'er-do-well, and the ones who don't want to knock her up want her dead.
Eugenie handles a Glock as smoothly as she wields a wand, but she needs some formidable allies for a job like this.
She finds them in Dorian, a seductive fairy king with a taste for bondage, and Kiyo, a gorgeous shape-shifter who redefines animal attraction. but with enemies growing bolder and time running out, Eugenie realizes that the greatest danger is yet to come, and it lies in the dark powers that are stirring to life within her....
Information
Format: Paperback
Pages: 512 pages
Publisher: Transworld Publishers Ltd
Publication Date: 01/08/2008
Category: Fantasy
ISBN: 9780553819861
Free Home Delivery
on all orders
Pick up orders
from local bookshops
Reviews
Showing 1 - 4 of 4 reviews.
Review by hagelrat
16/06/2015
Mead's new adult series revolves around Shaman Eugenie Markham who makes a living banishing ghosts, spirits and fey who are making trouble in this world. She first thinks something may be up when it's brought to her attention (by something inhabiting a training shoe) that her real name is now known to the fey. When she agrees to take on a very risky case to rescue a kidnapped girl she knows she is getting in over her head and she's right. I can't really say much more on plot without risking spoilers because I took so much pleasure in every plot advance of this book. Richelle Mead writes serious urban fantasy adventure with great balance, the right touch of humour and just a little sex. I liked Eugenie, maybe not quite as much as Kincaid from the Succubus novels, but this book had a different tone, maybe slightly more serious and more about the adventure, regardless I like her courage and humour and vulnerability. Again, I am finding it hard to expand without giving anything away, i think you will just have to read it.
Review by soliloquies
16/06/2015
Really didn't enjoy this one - it reminded me too much of the Merry Gentry novels and I've long since given up on them. The thing is, it could have been great if the author hadn't been quite so clichéd in her depiction of the characters.
Review by BookChickCity
16/06/2015
This is the first in the new Dark Swan series by Richelle Mead, author of the incredibly successful Vampire Academy and Succubus novels. Eugenie Markham (aka Odile) is a head-strong and independent character who is instantly likable. The opening few pages quickly sucked me into Eugenie's life as a Shaman with humour and combat as she fights to banish a spirit from a haunted running shoe! This book is full of action and for the most part the plot is fast-paced and when one fight ends another one begins or passion ensues with one or the other of her lovers. The portrayal of the different worlds she travels in and out of are vivid and realistic. Her love interests: Kiyo, a sexy shapeshifter and Dorian, a bondage-loving Fairy King, are well written with love scenes giving just enough detail to tantalise without being too explicit. The only criticism I have is that the romance between Eugenie and Kiro occured too quickly. It would have been nice to get to know Eugenie first without her being in a relationship so soon in the story. The affair with Dorian, however, flourished at a much slower pace and when they eventually got together it was more satisfying.Verdict:This is urban fantasy at it's best. Strong female lead, magical lands, sexy and a plot that twists and turns until the very end, leaving you longing for more. I enjoyed this book immensely and I am really looking forward to reading more. A great start to a new series. Highly recommend it!
Review by cherrymischievous
16/06/2015
This book was recommended to me by a fellow shelf browser at Waterstones bookstore when I went on a retail therapy a few weeks back. It came very highly recommended so I bought it. Talk about gullible!The story itself is not very original. If I have to give it a score, it'll be a 1 out of 5. It smacks too much like a female Harry Dresden by Jim Butcher. Or, the same tattooed protagonist in Mercy Thompson by Patricia Briggs. Or Kate Daniels in the Magic series by Ilona Andrews, ring any bells? Cassandra Palmer? I could go on and on. So… originality? Hardly. But what makes me buy Jim Butcher, Patricia Briggs and Ilona Andrews again and again even if they are not very original either? It's the masterpiece story-telling quality! However this book's story-telling quality is only about a 2 out of 5. Not very compelling at all. Plus the protagonist is just a shade this side of stupid.About one third into the book and I just know who our protagonist's father is. And guess what, I was right. It sort of deflates the suspense effect when one finds out one is right about the story.The cover art is not bad. I would give it a 4 out of 5. The lightning and the wand appeals to the fantasy buff in me.So, what have we got? A not very compelling story-telling quality, a story which is not very original at all and predictable to boot but good cover. Overall, I would give this book an entertainment value of 2 out of 5. Would I read another Richelle Mead? I would like to say no, but I already have a few of her books. But if ever I would read a Richelle Mead which I don't already own at this point in time, I'd borrow from the library than buy it.Cherry's Rating: 2 out of 5