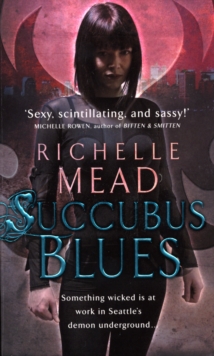 Description
When it comes to jobs in hell, being a succubus seems pretty glamorous.
A girl can be anything she wants, the wardrobe is killer, and mortal men will do anything just for a touch.
Granted, they can often pay with their souls, but why get technical?But Seattle succubus Georgina Kincaid's life is far less exotic.
Her boss is a middle-management demon with a thing for John Cusack movies.
Her immortal best friends haven't stopped teasing her about the time she shape-shifted into the Demon Goddess getup complete with whip and wings. And she can't have a decent date without the sucking away part of the guy's life.
At least there's her day job at a local bookstore - free books; all the white chocolate mochas she can drink; and easy access to bestselling, sexy writer, Seth Mortensen, aka He Whom She Would Give Anything to Touch but Can't. But dreaming about Seth will have to wait. Something wicked is at work in Seattle's demon underground. And for once, all of her hot charms and drop-dead one-liners won't help because Georgina's about to discover there are some creatures out there that both heaven and hell want to deny...
Information
Format: Paperback
Pages: 496 pages
Publisher: Transworld Publishers Ltd
Publication Date: 01/07/2007
Category: Fantasy
ISBN: 9780553818925
Other Formats
EPUB from £4.99
Paperback from £6.65
Free Home Delivery
on all orders
Pick up orders
from local bookshops
Reviews
Showing 1 - 4 of 4 reviews.
Review by stephxsu
16/06/2015
Georgina Kincaid (not her real name) is a millenia-old succubus, an alluring mythical creature who feeds off the energy of people with whom she's having sex. She's good at her job, but she wishes she weren't. She would much rather focus on her modest "day job" at a local bookstore and develop real relationships with people, touch men she loves without killing them, start a family... Is that too much to ask for?Unfortunately, it seems so. While Georgina juggles her feelings for two men--Roman, a handsome and persistent gentleman, and Seth, the shy and scruffily sexy bestselling author--a string of murdered immortals has her demon employer on high alert. Something mysterious and sinister is lurking out there with calculation, and if she isn't careful, she could lose everyone she loves.Richelle Mead's Vampire Academy series is one of my favorite series of all time, so I'm sorry to say that this book disappointed me. I expected snark, sexiness, action, and a sweet, enduring kind of romance--and I got them... in small, piddling quantities.On the bright side, I did rather like Georgina's voice. On the outside, she's gorgeous, which made for a lot of sexual-attraction fun in the book. However, we very quickly realize that she is no ordinary succubus, for she has long-harbored regrets and fears of her own. It is easy to empathize with her at the same time that we are entertained by her.Seth, while not having as big a role as the back cover summary implies (and as I wanted), is still very, very attractive. He makes me wonder why there aren't more introverted, awkward, yet deeply loyal and sweet love interests out there...because there really should be! I found myself reading the book just to get to scenes involving Seth. I kind of love him despite whatever condition he's in (aka obliviousness) or social faux pas he's inadvertently committing.Unfortunately, Seth is not enough to make me keen on continuing this series. It's not too badly written, but I still didn't connect to the characters or the story as well as I wanted to. Georgina, while a great protagonist, is also extremely off-putting, not to mention, um, kind of boring really quickly. I wished the paranormal aspect, such as Georgina's innate succubus nature, could have been better explored. It was hard for me to see Georgina as an actual succubus rather than just a rare gorgeous woman who just wants a genuineness that all her drooling, staring admirers cannot give her.Overall, SUCCUBUS BLUES didn't grab me the way other UFs did. I don't think I will be continuing, but I WILL be keeping in mind the high appeal of the awkward love interest for future reference!
Review by JudithProctor
16/06/2015
I was given this as a promotional book at an SF convention and wasn't expecting to like it, as urban fantasy isn't a genre I normally read. I don't normally read erotic romance either - nothing against the genre, more a feeling of 'been there, written that'.However, I got a lot of pleasure from reading the book and found myself keeping coming back to read the next chapter when I really had other things I should have been doing...The characters are well written and I fell in love with Seth, the shy, geeky writer.The plot is engaging and the dilemma of the succubus (anyone she has sex with will end up giving her their life energy, and the more good/genuine the person is, the more they will lose to her) means that she can't have sex with any man whom she really likes and respects.There's also some good minor characters who are more than just background cutouts.The promotional book seems to have worked. I've just bought the next one in the series...
Review by emleemay
16/06/2015

I liked this book a lot more than I imagined I would. I'm not really a hardcore urban fantasy fan, I much prefer series like this with the softer, chick-lit style writing complete with witty dialogue and hot immortal men. Georgina Kincaid is a very likeable heroine, not a pretentious do-gooder but nice enough that you care about what happens to her.

This first novel in the series is full of steamy sex, hilariously quotable writing and a supernatural mystery to form the background plot. What more can you really want? Granted, it's not a book that will change your life or give you anything particularly deep to think about, but it is fun and enjoyable. My main criticism would be I suspected the outcome of the nephilim murder mystery about halfway through the book... but never mind, I can't wait to read book 2.
Review by Steph1203
16/06/2015
And I am now hooked on another 6 book series.<br/>This book was so good, I couldn't put it down, the poor spine of this book is proof of that.