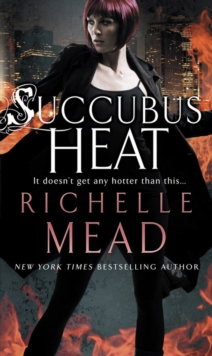 Description
Georgina Kincaid has been a bad, bad succubus...which should be a good thing.
But she's in a foul mood after breaking up with her boyfriend Seth and has been so wicked that uber-demon Jerome decides to 'outsource' Georgina to a rival - and have her spy for him in the process. Then Jerome is kidnapped, and all immortals under his control mysteriously lose their powers.
With her life-sucking ability gone, Georgina finds herself caught up in a sinister plot.
Is she the only one who can stop all Hell breaking loose?
Information
Format: Paperback
Pages: 512 pages
Publisher: Transworld Publishers Ltd
Publication Date: 01/05/2009
Category: Fantasy
ISBN: 9780553820270
Other Formats
EPUB from £3.99
Paperback from £10.69
Free Home Delivery
on all orders
Pick up orders
from local bookshops
Reviews
Showing 1 - 5 of 7 reviews.
Previous | Next
Review by BookWhisperer
16/06/2015
I struggled with this book more than any in the series. Mead is one hell of an author, although, I find the story line is growing tiresome. It seems as though, the story line continues but the best was lost in the first three books. I still look foward to the second book in the Dark Swan series.
Review by C.Ibarra
16/06/2015
I love this series but I'm not a fan of angry and bitter Georgina.
Review by readingdate
16/06/2015
This is book 4 in the Georgina Kincaid series. It was the darkest and saddest book of the series for me. Georgina is in a funk over her breakup with Seth, and she is moody and depressed through the first half of the book. The action picks up later in the book when Jerome mysteriously disappears, and consequently Georgina and the rest of Jerome's immortals lose their "abilities". The vampires can now go out in the sun, and Georgina can have sex without taking away human's life energies. You know where this is going, right? Georgina is involved with solving the mystery with her friends, and doesn't know who she can trust. This was another enjoyable installment and I'm looking forward to reading Succubus Shadows in March!
Review by DijaK
16/06/2015
I'm so torn with this book. I don't really like Seth, but I love the love that Georgie has for him. And I also believe that Maddie and Seth make a better couple than Georgina and Seth. x_x Georgie deserves to have a nice guy in her life, and I don't think that guy's Roman. That leaves only Carter, Jerome, Peter, Cody, or Hugh as possible partners for Georgina, and I really hope she doesn't get together with any of those. But ugggghh, all this is so frustrating. I can't see how this series will end at all. I'll just read the next book in the series and see what happens without forming any theories of my own. XD
Review by paperloverevolution
16/06/2015
If I could make a graph rather than a review, I'd show the quality of this series declining over time, while the quality of Mead's YA work is slowly increasing. <i>Bloodlines</i>, her Vampire Academy spin off, is legitimately good, with a Veronica Mars girl-detective style sass to it that gave it an extra appeal. The thing that KILLS me about the Georgina Kincaid series is that the background characters are still so fantastic - witty, interesting, well constructed, full of zingy one-liners and awesomely nerdy historical references. It's just the main storyline that drags on like a bloated carcass, all overwrought hysterics and implausible melodrama, punctuated by lots of steamy yet strangely repetitive sex. The fact that it clearly could NOT suck makes it more sad than bad.