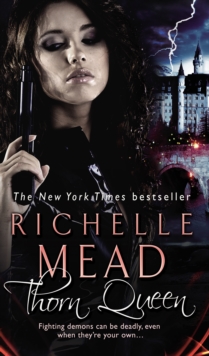 Description
Eugenie Markham is a shaman for hire, paid to bind and banish creatures from the Otherworld.
But after her last battle, she's also become queen of the Thorn Land.
It's hardly an envious life, not with her kingdom in tatters, her love life in chaos, and Eugenie eager to avoid the prophecy about her firstborn destroying mankind. And now young girls are disappearing from the Otherworld, and no one - except Eugenie - seems willing to find out why.
Eugenie has spilled plenty of fey blood in her time, but this enemy is shrewd, subtle, and nursing a very personal grudge. And the men in her life aren't making things any easier.
Her boyfriend Kiyo is preoccupied with his pregnant ex, and sexy fey king Dorian always poses a dangerous distraction.
With or without their help, Eugenie must venture deep into the Otherworld and trust in an unpredictable power she can barely control.
Reluctant queen or not, Eugenie has sworn to do her duty - even if it means facing the darkest - and deadliest - side of her nature...
Information
Format: Paperback
Pages: 480 pages
Publisher: Transworld Publishers Ltd
Publication Date: 01/08/2009
Category: Fantasy
ISBN: 9780553819878
Free Home Delivery
on all orders
Pick up orders
from local bookshops
Reviews
Showing 1 - 4 of 4 reviews.
Review by BookChickCity
16/06/2015
Eugenie Markham is half human and half faery and is still trying to balance her life of two worlds and two lovers. Now she is the Thorn Queen of Thorn Land and life is getting more difficult as she is spending more time in the Otherworld. Her powers are getting stronger and more deadly. But is this what she wants?Thorn Queen is the second book in the Dark Swan series and having just read the first, Storm Born, I was able to drift straight back into the story with ease. The writing is easy going and the story grabs you from the first few pages. As with the first book the worlds described are vivid and the characters are well rounded and likable. There is plenty of action, in the bedroom as well at out of it, combined with lots of suspense. Eugenie grows into her powers more, although she is still uncertain if she actually wants them. Thorn Queen is a bit more serious than Storm Born, there are a few humourous touches but not many. It is slightly darker too, but this only adds more depth to the story and I found myself becoming further involved with Eugenie's character and subsequently liking her more and more. Verdict:Eugenie is a terrific heroine; feisty, strong and sexy too. I look forward to reading more about her as the series progresses. I definitely recommend this book. It's a really great read!
Review by aoibhealfae
16/06/2015
Thorn Queen is the second Urban Fantasy book of Dark Swan series by Richelle Mead. This is actually a reread since I've followed the series for years which have ended earlier in 2012. Eugenie Markham is one of those people who unfortunately have bad things happens to her on days when she think her day job is bad enough. From the first book, it started with Eugenie receiving an assignment to find a missing sister in the other alternate world where magical creatures live and occasionally leaks into our world. The book subsequently leads to the revelation that she is one of the magical dictator's progeny and one of those who could fulfill the prophecy of giving birth another magical tyrant. Good thing is, she never intended to have kids but it was until she found out that she have a sister.<br/><br/>The title of this book is centered around Eugenie's eventual succession of a country in the fairy world after she killed a king and usurped his power of the land. As the land followed the image of her home, it became a version of Nevada desert. By becoming a queen, she have to juggle her time and responsibility as a shaman in the human world and the politics in the faerie world. This also include trying to control her storm magic and the affection of two man, a japanese kitsune, Kiyo and King Dorian. <br/><br/>What made this book enjoyable to me was that it have more fantasy setting than modern environment like in the Succubus series which I hated completely. By drifting in between worlds, the magical elements in this book is more pronounced and the added noirish detective element would hook you up until you sink. I enjoyed the chemistry and conflicts between the characters, the added sensual heat in the midst of suspense and death was delicious.<br/><br/>I could understand why many have gripes about some of the characters including the main character and have problems with Richelle's consistently trying to not writing a book with predictable storylines, but I enjoyed the series thoroughly and it made me appreciate her as an adult writer than a young adult writer. There are certain ways a person could express as a writer and I think she balanced it well.
Review by Glennis.LeBlanc
16/06/2015
This picks up almost right after the first book in the series. Eugenie now knowing there is prophesy that says her first born child will rule all of fey and she is trying to stop this from happening. Most of this book has her trying to clean up the mess she inadvertently caused by her actions in the previous book. There is also a subplot of missing peasant girls in the book as well that Eugenie is also taking on. This was good but I wasn't as keen to read the next one. Not sure if it is because I know there are only two more books.
Review by Cynical_Ames
16/06/2015
Ok so I couldn't wait for the actual book to arrive so I downloaded the ebook. It was totally worth it. <br/><br/>Whereas <i>Storm Born</i> was about Eugenie discovering her heritage and inheriting two titles (one by birth and one by accident), three months later <i>Thorn Queen</i> sees her realising that no matter how much she doesn't want to be a gentry queen she is one and she needs to take responsibility for the land and it's people, half assed as she does it in this. When she sees that the people are starving because of the way the land has conformed to her vision of what she calls "home", the desert of Tuscan, she decides she needs to help them discover water and find ways of growing food but she doesn't want to get too involved because she still sees herself as human and not as a queen. Doing this is an odd experience for her as she's approached by the people with fear and awe due to her parentage and the way in which she killed her predecessor, who did not care a jot about the affairs of those beneath him.<br/><br/>Eugenie's world may be quite narrow in terms of the number of characters and their backgrounds but with characters that there are, are varied - though I would like more personal history on each of them, this is my only criticism. <br/><br/>In this, Kiyo's relationship with Maiwen strains his relationship with Eugenie as does his naivity that she can just ignore the people she's supposed to be ruling, the hard decisions that need to be made as a ruler and her raw unpredictable power. I predicted that he was dangerous for Eugenie but <i>Thorn Queen</i> really demonstrated the numerous reasons why he wasn't just a selfish idealist but an idiot as well.<br/><br/>Dorian is on the opposite end of the scale. He's a fellow ruler so he understands politics, the need to care for your people and the necessity for Eugenie to be trained in her magic so as not to become a danger to herself or others. He also understood that after her traumatic experience she would need space and time to recover. Despite his agenda, he truly cares for Eugenie and was willing to start a war to protect her honour and carries out vengeance on her behalf, whereas Kiyo just stood by and judged Eugenie for using her magic against someone who'd violated her, he never even considered killing the b*stard himself. As Eugenie states:<br/><br/><i>Kiyo had failed me. Dorian would not.</i><br/><br/>I applaud Richelle Mead for the way she protrays relationships between her characters, they are completely believable. I think <i>Iron Crowned</i> will see Eugenie fully embrace her new responsibilites as Thorn Queen and as Storm Queen as she prepares to go to war with the faithful Dorian at her side.