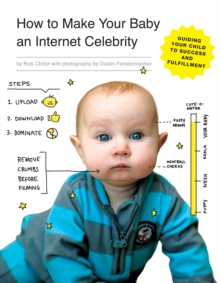 How To Make Your Baby An Internet Celebrity
Paperback
Description
HOW TO MAKE YOUR CAT AN INTERNET CELEBRITY taught cat-owners everywhere the keys to financial freedom.
Now, it's time for babies to take the spotlight. From a wobbly first step to an adorably mispronounced refusal to eat bwoccoli, ephemeral moments of childhood joy caught on video are now worth their digital weight in gold-and if you don't cash in RIGHT NOW, you're condemning your child to a downward spiral of obscurity, public schooling, fast-food employment, and expensive psychotherapy.With this handy guide, you'll learn how to spot your baby's potential, document each potentially adorable move, and wring every last advertising dollar out of their viral videos.
Plus, you'll get advice for dealing with tantrums (yours or theirs), bad behavior (Baby Star sentenced to time-out), and sticky tax situations (It's for her college fund, I swear!).
HOW TO MAKE YOUR BABY AN INTERNET CELEBRITY makes grabbing fame and fortune as easy as taking candy from a babyand because it's your baby, it's perfectly okay to do so.
Information
Format: Paperback
Pages: 128 pages
Publisher: Quirk Books
Publication Date: 30/09/2014
Category: Humour
ISBN: 9781594747397
Free Home Delivery
on all orders
Pick up orders
from local bookshops