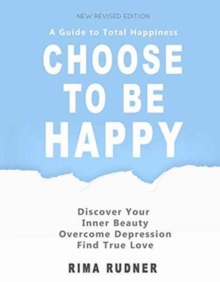 Choose to Be Happy : A Guide to Total Happiness
Paperback / softback
Description
A Guide to Total Happiness New Revised Edition. This much-awaited new edition of Rima Rudners self-help book adds insight into how to get happy and stay happy.Rima shares new insights that can lead to inner-peace and provides Happiness Tools that make this book a must read for anyone who wants to improve the quality of their lives.
Choose to Be Happy is based on the scientific studies that prove that 50 of ones happiness is genetic and that we all return to our genetic set-point no matter what happens to us.
Readers find out how to reverse the self-defeating habits and behaviours that are sabotaging their joy of life.
Rima shows readers how
Information
Format: Paperback / softback
Pages: 256 pages
Publisher: Choose Incorporated Publishing
Publication Date: 10/08/2017
Category: Popular psychology
ISBN: 9780980109610