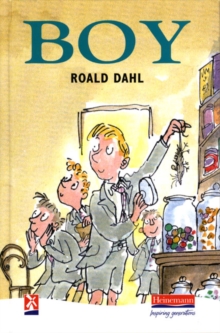 Description
"I sat down in assembly one day and started to read this book to my two hundred and forty students, deciding that I would stop when restlessness became too obvious.
I went on...and on... and on. In the end I had to stop before the school seized up, and still the children clamoured for more." Gerald Haigh, TES
Information
Format: Hardback
Pages: 160 pages
Publisher: Pearson Education Limited
Publication Date: 04/04/1986
Category: General
ISBN: 9780435123000
Other Formats
Paperback from £5.59
Hardback from £8.59
EPUB from £4.99
CD-Audio from £11.05
eAudiobook MP3 from £4.50
Free Home Delivery
on all orders
Pick up orders
from local bookshops
Reviews
Showing 1 - 1 of 1 reviews.
Review by fullbodyarmour
16/06/2015
Boy by Roald DahlBoy is a thrilling and entertaining book written by Roald Dahl. It was published in 1984 by Heinemann Windmills. It is an autobiography of life up until the age of 20.The main part of the book is set in 1917-1936, mostly set in England and Norway. Roald firstly talks about his father's life and how he lost his wife and had to marry again. Roald's father died from pneumonia when Roald was 3. Roald's descriptive words portray the main events in this book, such as going to Llandaff Cathedral School, finding a dead mouse and hiding it in a jar, travelling to Norway, starting St Peters School, going for a drive in a motor car and almost losing his nose, meeting the mean Captain Hardcastle, going to Repton, getting caned many times and finally getting a job at Shell.Dahl uses a lot of humorous language in this book and will make you laugh a lot. He uses figurative language to fully show what is exactly happening. He foreshadows a lot, such as the time he hid the mouse and when they came back, the shop was closed, so the children thought the owner was dead.Dahl cannot completely remember all the incidents that happened in his life, so he embellishes, adding events that may not have happened. He also uses many descriptive words to portray perfectly what the many characters looked like and what happened. He uses descriptive words includung "drooping bloodhound cheeks and filthy clothes" and "black with dirt and grime". There are also many pictures and snippets of letters situated in the book, giving the reader further understanding. The illustrations are drawn by Quentin Blake.Dahl's characterisation skills are also shown through his dialogue. He portrays Mrs Pratchett, the grubby shopkeeper at the candy store, as an uneducated woman as her speech drops the "h" at the start of a word and the "g" at the end of a word, so instead of saying "leave them hanging", she would say "leave 'em 'angin'". He also characterises in voice through what the characters actually say. An example is Mrs Pratchett's word choice and grammar. She uses very low level words and her grammar is very poor. Dahl takes voice characterisiation to the next level by stating the type of voice the characters use, such as Mrs Pratchett's high pitched shrieks.I believe this is a great book to read, and I would recommend this book to any reader. The many caning incidents may cause distress though. Roald Dahl has used very descriptive language and figurative language along with spontaneous embellishment to employ a great mental image and a wonderful autobiography written by one of the greatest story tellers of all time. If you love this book, don't forget to read the second part of his biography, Flying Solo. Flying Solo recounts Roald's experience as a fighter pilot in the war, but that is another story altogether.
Also in the New Windmills KS3 series | View all