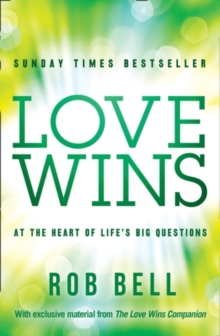 Love Wins : At the Heart of Life's Big Questions
Paperback
Description
Now in paperback, Rob Bell's Sunday Times Bestselling Love Wins is the world's most talked-about modern Christian book.
Creating controversy and discussion, Love Wins gets to the heart of questions about life and death.
Its perspective will surprise and challenge both Christians and atheists, and will inspire people of all faiths and none.Millions of Christians have struggled with how to reconcile God's love and God's judgement: Has God created billions of people over thousands of years only to select a few to go to heaven and everyone else to suffer forever in hell?
Is this acceptable to God? How is this "good news"?Troubling questions-so troubling that many have lost their faith because of them.
Others only whisper the questions to themselves, fearing or being taught that they might lose their faith and their church if they ask them out loud.But what if these questions trouble us for good reason?
What if the story of heaven and hell we have been taught is not, in fact, what the Bible teaches?
What if what Jesus meant by heaven, hell, and salvation are very different from how we have come to understand them?What if it is God who wants us to face these questions?Author, pastor, and innovative teacher Rob Bell presents a deeply biblical vision for rediscovering a richer, grander, truer, and more spiritually satisfying way of understanding heaven, hell, God, Jesus, salvation, and repentance.
The result is the discovery that the "good news" is much, much better than we ever imagined.Love wins.
Information
Format: Paperback
Pages: 224 pages
Publisher: HarperCollins Publishers
Publication Date: 01/03/2012
Category: Christian theology
ISBN: 9780007465057
Other Formats
EPUB from £2.49
Paperback from £11.79
Free Home Delivery
on all orders
Pick up orders
from local bookshops
Reviews
Showing 1 - 2 of 2 reviews.
Review by xuebi
16/06/2015
Bell is a pastor known for the controversy his books raise in Christian circles and this one is no exception. Supposedly dealing with universalism and salvation, ultimately Bell asks many questions (which are important for Christians to ask anyway) but gives no substantial answers. However, it is good to promote serious thinking about soteriology and responses to it.
Review by SueinCyprus
02/03/2016
Essentially, this book asks a lot of questions - ones which some Christians may see as over-challenging or controversial. The writing style is in short sentences, inviting readers to start thinking about God, about the Bible, and about their beliefs. We all have preconceived ideas - those we have been taught, those we have assumed, and Rob Bell does an excellent job of getting back to first principles, of asking who this God is whom we worship, and what the Bible means by love, by redemption, and by Heaven and Hell.<br/><br/>I found it very readable and thought-provoking. It doesn't give a lot of answers, and those it gives are left open to the reader to consider, and perhaps answer differently. The main focus which I thought very positive was of the importance of how we live, and how we grow in relationship with God and each other, and how we continually need to question our assumptions - the 'stories', as he puts it, which we tell ourselves, or perhaps which other people have told us. <br/><br/>While this book is surprisingly controversial, and has many critics, I thought it a helpful overview of what many Christians believe, and would recommend it to anyone, particularly those who have been hurt or damaged by images of a slave-driving or vengeful God, or indeed by well-meaning Christians who don't really answer genuine questions.