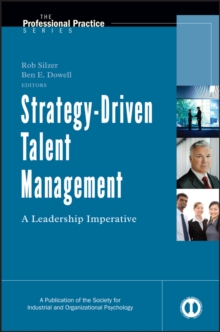 Strategy-Driven Talent Management : A Leadership Imperative
Hardback
Description
Professionals are searching for an integrated approach to building and sustaining leadership talent.
This volume in the SIOP Professional Practice series provides an up-to-date perspective on current talent management practices in business organizations.
Bringing together a collection of thought leaders and managers from noted organizations, this book presents state-of-the-art ideas, best practices, and guidance on how to recruit, select, assimilate, develop, compensate, and retain exceptional leaders.
It contains the knowledge, research, and experience in developing and implementing those practices and initiatives, and provides an effective resource for I/O psychologists and HR professionals.
Also in the J-B SIOP Professional Practice Series series | View all