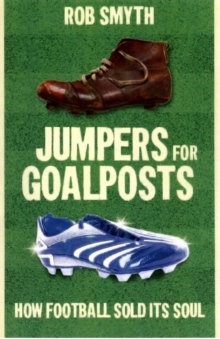 Jumpers for Goalposts : How Football Sold Its Soul
Paperback
Description
On August 15th 1992, the Premier League kicked off for the very first time to the sound of money.
That same season, a new kind of branded commercialism descended across the continent as the European Cup was re-launched as the Champions League.
In 1994, the game's oldest trophy, the FA Cup, would become the last of English football's major competitions to fall to commercial sponsors. The early 1990s mark the moment at which the beautiful game, the sport of the common man, wound up on a market stall, complete with price tag.
Of course the game needed to change - terraces had become ugly, dangerous places, blighted with racism and afflicted with the tragedies of Hillsborough and Heysel; on the mud-patches that passed for pitches, tackles were brutal, bone-crunching, and very much from behind.
But rather than righting wrongs, pockets were lined as the legacy of football was cashed in. Rob Smyth and Georgina Turner explore the fan's-eye view of 21st-century football, a game that can be about breathtaking style, but very little substance; a grossly inflated memory of its former self where Football's Soul (TM) is an idea to be traded, not treasured.'Jumpers for Goalposts' gives the facts, figures, wit and insight that proves that in the game of the people, for the people, the fans do know best and that to recover its soul, the beautiful game has to rediscover its roots.
Information
Format: Paperback
Pages: 224 pages, ill
Publisher: Elliott & Thompson Limited
Publication Date: 13/10/2011
Category: History: specific events & topics
ISBN: 9781907642227
Free Home Delivery
on all orders
Pick up orders
from local bookshops
Reviews
Showing 1 - 1 of 1 reviews.
Review by atticusfinch1048
16/06/2015
Jumpers for Goalposts – Some Interesting PointsI always smile when I read books that complain that football has changed for the worse that it is not like the old days. In the old days we had ramshakle stadia, crap food, violence on and off the pitch, deaths and people turning away from football. You could rock up to a ground pay at the gate and gain entry some of those even turned up at Old Trafford but then they always had the glory hunting tourist fans well worth punching on derby day. I understand a few headbutted a few City fans fists at that time while the Mancunian reds watched and applauded. Believe me there was nothing fantastic about supporting your team at time back then at times, things have moved on times have changed. Whether for the better or the worst Jumpers for Goalposts examines the rise of 'modern' football, or as most Manchester United fans would say the beginning of history in 1992.Jumpers for Goalposts written by sports journalists Georgina Turner and Rob Smyth (to me a tourist from Kent who supports the RAGs of Old Trafford), before I start Old Trafford was only ever made for cricket. They examine whether football has sold its soul which with the influx of money today is an important question for all fans even those of debt ridden clubs. There are some mistakes in here but that is expected as they are journalists after all, "We all live in a Robbie Fowler house" started at Manchester City when he signed for them and was continued by Liverpool, I know pedant alert.The chapters are well constructed that cover the money that has come in to football and where it is being spent now and there are some very interesting comparrisons when the authors talk about football players, and therefore False Idols is the most apt chapter title for them. When they cover the amount players are paid on some you can understand the outrage for the mediocre and average players receiving so much but the world class players is a different matter.When talking of the premier league from its inception in 1992 until 2011 they have clearly argued the point of Greed is Good has been great for some football clubs but an absolute disaster for others. Especially when you think of the 'arms' race that goes on first to get to the promised land of the premier league and then more importantly to stay there. Which I doubt there is anyone that would argue against the argument as they set it out especially when you look at our youth teams and more importantly the full England team.This book guides us through everything that we may need to know about modern football and how it operates especially in relation to money. It also shows up, using plenty of examples, the stupidity of many of the footballers and their arrogance along with their endless riches. It is hard to escape in this book how money now drips through the game getting everywhere like water.It would have been easy for this book to turn in to a polemic but it is a balanced argument as you can get but does provide the evidence when required. The good thing about the journalists that wrote this book is they are able to give an honest account of football and how much money now floats around in the game without much recall to the fans or at times common sense.An interesting book always worth a read even if it is just for some of the examples they use through out the book.