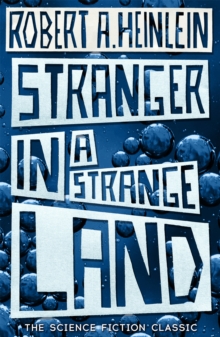 Stranger in a Strange Land
Paperback
Description
The original uncut edition of STRANGER IN A STRANGE LAND by Hugo Award winner Robert A Heinlein - one of the most beloved, celebrated science-fiction novels of all time.
Epic, ambitious and entertaining, STRANGER IN A STRANGE LAND caused controversy and uproar when it was first published and is still topical and challenging today. Twenty-five years ago, the first manned mission to Mars was lost, and all hands presumed dead.
But someone survived... Born on the doomed spaceship and raised by the Martians who saved his life, Valentine Michael Smith has never seen a human being until the day a second expedition to Mars discovers him. Upon his return to Earth, a young nurse named Jill Boardman sneaks into Smith's hospital room and shares a glass of water with him, a simple act for her but a sacred ritual on Mars. Now, connected by an incredible bond, Smith, Jill and a writer named Jubal must fight to protect a right we all take for granted: the right to love.
Information
Format: Paperback
Pages: 640 pages
Publisher: Hodder & Stoughton General Division
Publication Date: 01/06/2007
Category: Science fiction
ISBN: 9780340938348
Other Formats
EPUB from £1.99
eAudiobook MP3 from £23.48
Free Home Delivery
on all orders
Pick up orders
from local bookshops
Reviews
Showing 1 - 3 of 3 reviews.
Review by LarissaBookGirl
16/06/2015
This is the story a man of two worlds, the world he was born to and the world be was born on. On first inspection the most remarkable thing about Valentine Michael Smith was his circumstance of birth and subsequent upbringing in a strange land, however it is not until Valentine Michael Smith is brought 'home' that we have to wonder if his is the strange land, or it is ours?However you looked at it, biologically Valentine Michael Smith was human, even if his beliefs and ways were not. But is genetics alone enough to define man? As he begins to learn about his new 'home' and its people, many social, philosophical and religious question are raised. What is it to be a man, to be human? What is truth? What is God?As it turns out Valentine Michael Smith may be no more a man than he is a Martian. He is a race of one having to learn to change his ways to conform to human society, or failing that change human society to conform to his ways. A feat that may be more plausible then it sounds, at least for one as unique as the 'Man From Mars'.STrANgER IN A StRANgE LAnD is a deeply thoughtful and undeniably compelling read; this is not a book to be skimmed through and passed off as mere fantasy alone but a story to be taken in and grokked as best as possible. It is easy to see why they had wanted to ban this book with its themes of sexuality, religion, society and morals. Themes that are as relevant today as they were when this book was first written.(1961, in case you were wondering.)Having never read the original, previously released shortened edition, I can not say for sure how much this story has changed being the uncut version, but I can say that if you have never read this book, either version I'm sure, then you are greatly missing out on one of the most cultural, philosophical and religious discussions ever committed to literature.
Review by IrishHolger
16/06/2015
For the very first part I liked the concept of the novel but then got more and more bored by its preachy ramblings. It's a book that sure hasn't aged well and is less of a story than a series of seemingly endless not-as-clever-as-the-author-thought-it-would-be monologues. Yep, colour me disappointed.
Review by Pondlife
16/06/2015
Well, now I know where the hacker culture word "grok" comes from, and I suspect one of the influences behind Bowie's Ziggy Stardust character.This is an important and influential book, but not really a good one, hence three stars. It's far too long (I read the later uncut version, perhaps the earlier shorter edition would have been better), and it seems like the author wants to push his free-love agenda a little too much.I'm glad I read it, but probably won't want to read it again.