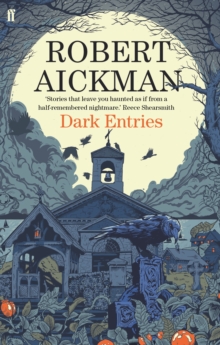 Description
Robert Aickman (1914-1981) was the grandson of Richard Marsh, a leading Victorian novelist of the occult.
Though his chief occupation in life was first as a conservationist of England's canals he eventually turned his talents to writing what he called 'strange stories.' Dark Entries (1964) was his first full collection, the debut in a body of work that would inspire Peter Straub to hail Aickman as 'this century's most profound writer of what we call horror stories.'
Information
Format: Paperback
Pages: 256 pages
Publisher: Faber & Faber
Publication Date: 05/06/2014
Category: Horror & ghost stories
ISBN: 9780571311774
Free Home Delivery
on all orders
Pick up orders
from local bookshops
Reviews
Showing 1 - 1 of 1 reviews.
Review by pgmcc
27/08/2015
Dark Entries by Robert AickmanThis collection contains six "Strange Tales", as Aickman preferred to call his works of fiction. These are:The School FriendRinging the ChangesChoice of WeaponsThe Waiting RoomThe ViewBind Your HairIn addition there is an "Introduction" written by [[Richard T. Kelly]] and a "Robert Aickman Remembered" at the end of the book which was written by [[Ramsey Campbell]]. It appears to be the standard structure for the Faber & Faber editions of Aickman's works: introduction by someone the publisher thinks is of note and a remembrance by someone who knew the man.As is my wont, I read the Introduction after having read all the stories and the remembrance piece. It is not only one of the introductions that should not be read before reading the book, but it is an introduction that should be avoided unless you have read all Aickman's works. It is full of spoilers for many of Aickman's stories, not just the ones in this collection. I did not finish it as it will spoil many stories if one has not already read them.Campbell's remembrance was interesting. He met Aickman when he delivered the World Fantasy Award to Aickman in 1975 for his story, Pages from a Young Girl's Journal (an excellent story that I commented upon in post #137 above) and subsequently entered into a regular correspondence and friendship after chaperoning Aickman when he was Guest of Honour at the British Fantasy Convention in 1976.Having read the remembrance piece in Cold Hand in Mine by Jean Richardson, I can saw I am developing an image of the man in my mind. He was a man out of place and time according to comments: a man from a different age.The stories are most intriguing. Each one holds its own memories for me. I am going to make some comments on each story so I will use the spoiler mask. The School FriendThe first quote I underlined in this was:"You're an artist, Mel. You can't expect to be a success at the same time."That was a passing comment in the story but I suspect it gave away some of Aickman's views on his writing. Apparently his publisher wanted him to write more commercial pieces and was rebuked by Aickman who explained that this was his art.Apart from the quirky quotes that I loved, this story took me back to my own childhood and reminded me of adventures I had with school friends. Ringing the Changes is a chilling tale of strangeness but it contains many hints at Aickman's views of marriage. It tells the story of a honeymoon couple visiting a seaside town in off-season and the strangeness that befalls them. There appear to be parallels between the couple's relationship and that of Aickman and one of his female friends. I suspect the story is a warning to his friend that marriage to him could be detrimental to her. Choice of WeaponsThis is another story about a relationship between a man and a woman. As with all Aickman's stories there are hidden depths of darkness and hints at the supernatural. Again, an excellent story that has the reader wondering what is happening but also includes prose and asides that make the reader think, or even laugh. His description of houses in an area is just such an aside: "The houses seemed identical: withdrawn, but only as if ashamed of their unfashionableness."The Waiting Room is a comparatively straightforward ghost story and is very enjoyable for that. It also evokes the whole experience of travelling by train in a bygone age: the age when there were no mobile phones; steam was king; central heating in a railway station was unheard of; customer service was a term never heard of.The View is a wonderful tale touching on love, ageing, madness, and the rat-race. This was a story that I thought I would abandon after the first couple of pages but which turned into a gem that I will return to again and again. Noted quotes include: "She has no idea how plain she is and of course you can't tell her," observed a conspicuously unattractive woman of about forty-five to replica of herself.Bind Your Hair is a strange tale of the rustic supernatural. I believe it is working with the urban/rural divide and uses the occasion of the visit of a recently engaged couple to the man's parents to introduce the city girl to the hidden weirdness of country life.This book reinforced my liking of Robert Aickman's work and pushes me closer to reading his two autobiographies in an attempt to learn more about the man.