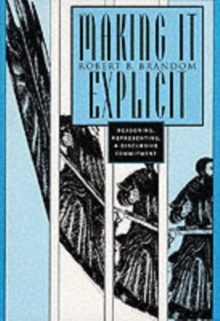 Making it Explicit : Reasoning, Representing and Discursive Commitment
Paperback / softback
Description
What would something unlike us - a computer, for example - have to be able to do to qualify as a possible knower, like us?
To answer this question at the very heart of our sense of ourselves, philosophers have long focused on intentionality and have looked to language as a key to this condition. "Making It Explicit" is an investigation into the nature of language - the social practices that distinguish us as rational, logical creatures - that revises the very terms of this inquiry.
Where accounts of the relation between language and mind have traditionally rested on the concept of representation, this book sets out an alternate approach based on inference, and on a conception of certain kinds of implicit assessment that become explicit in language. "Making It Explicit" attempts to work out in detail a theory that renders linguistic "meaning" in terms of "use" - in short, to explain how semantic content can be conferred on expressions and attitudes that are suitably caught up in social practices.
At the centre of this enterprise is a notion of discursive commitment. Being able to talk - and so in the fullest sense being able to think - is a matter of mastering the practices that govern such commitments, being able to keep track of one's own commitments and those of others.
Assessing the pragmatic signficance of speech acts is a matter of explaining the explicit in terms of the implicit.
As he traces the inferential structure of the social practices within which things can be made conceptually explicit, the author defines the distinctively expressive role of logical vocabulary.
This expressive account of language, mind and logic is, finally, an account of who "we" are.
Information
Format: Paperback / softback
Pages: 768 pages
Publisher: Harvard University Press
Publication Date: 30/10/1998
Category: Philosophy of language
ISBN: 9780674543300
Free Home Delivery
on all orders
Pick up orders
from local bookshops