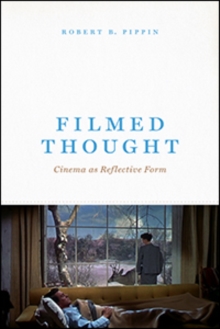 Filmed Thought : Cinema as Reflective Form
Hardback
Description
With the rise of review sites and social media, films today, as soon as they are shown, immediately become the topic of debates on their merits not only as entertainment, but also as serious forms of artistic expression.
Philosopher Robert B. Pippin, however, wants us to consider a more radical proposition: film as thought, as a reflective form.
Pippin explores this idea through a series of perceptive analyses of cinematic masterpieces, revealing how films can illuminate, in a concrete manner, core features and problems of shared human life. Filmed Thought examines questions of morality in Almod var's Talk to Her, goodness and naivete in Hitchcock's Shadow of a Doubt, love and fantasy in Sirk's All that Heaven Allows, politics and society in Polanski's Chinatown and Malick's The Thin Red Line, and self-understanding and understanding others in Nicholas Ray's In a Lonely Place and in the Dardennes' oeuvre.
In each reading, Pippin pays close attention to what makes these films exceptional as technical works of art (paying special attention to the role of cinematic irony) and as intellectual and philosophical achievements.
Throughout, he shows how films offer a view of basic problems of human agency from the inside and allow viewers to think with and through them.
Captivating and insightful, Filmed Thought shows us what it means to take cinema seriously not just as art, but as thought, and how this medium provides a singular form of reflection on what it is to be human.
Information
Format: Hardback
Pages: 312 pages
Publisher: The University of Chicago Press
Publication Date: 16/12/2019
Category: Film theory & criticism
ISBN: 9780226671956
Other Formats
Paperback / softback from £23.39
Also by Robert B Pippin