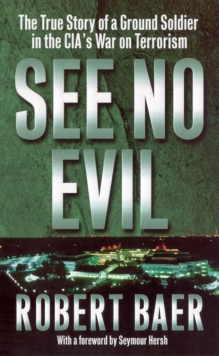 Description
See No Evil is the astonishing and controversial memoir from one of the CIA's top field officers of the past quarter century.
Robert Baer recounts his career as a ground soldier in the CIA's war on terrorism, running agents in the back alleys of the Middle East, with blistering honesty.
He paints a chilling picture of how terrorism works on the inside and provides compelling evidence about how Washington sabotaged the CIA's efforts to root out the world's deadliest terrorists.
See No Evil is an unprecedented examination of the roots of modern terrorism and the CIA's failure to acknowledge and neutralise the growing fundamentalist threat, and an engrossing memoir of Baer's education as an intelligence operative.
See No Evil includes revelations about the strategic alliance Osama bin Laden forged with Iran in 1996 to mastermind terrorist attacks on the United States and elsewhere, about the planned coup d'etat against Saddam Hussein and how it was aborted by the National Security Council, and about the CIA's disastrous decision in 1991 to shut down its operations in Afghanistan and Saudi Arabia, ignoring the fundamentalists working in those countries.
An extraordinary testimony that has become even more vital and damning since the events of 9/11 and the subsequent War on Iraq.
Information
Format: Paperback
Pages: 464 pages, 8 Illustrations, unspecified
Publisher: Cornerstone
Publication Date: 03/10/2002
Category: Espionage & secret services
ISBN: 9780099445548
Free Home Delivery
on all orders
Pick up orders
from local bookshops
Reviews
Showing 1 - 2 of 2 reviews.
Review by freddiefreddie
16/06/2015
Baer's account of his time in the CIA is an exercise in disillusionment. You too will begin to see how things really work - not just at the CIA, but in Washington, too. You'll find there is no conspiracy but the one to keep up the illusion that the government is acting in our best interest. If you ever needed proof that politicians (okay, well, most of them) are in it for themselves, you need read no further than this book. The people who do care and have the smarts to change things either don't have enough power or the political savvy to survive in a world (politics) that has become increasingly incompetent and self-absorbed. It's a sad story, but one that needed to be told.
Review by jahn
16/06/2015
A good read, read as an adventure story, or as backgound to today's Middle East political situation. Since the author-CIA-agent is up against enemies considered enemies even by most left-wing Westerners (nothing on South America in this book), there's not much moral qualms to be encountered, given that encouraging others to betray their country/political membership - which is what intelligenge services do - is acceptable to the reader.