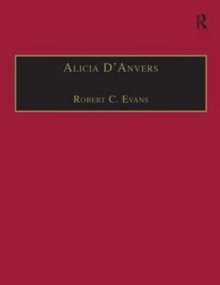 Alicia D'Anvers : Printed Writings 1641-1700: Series II, Part Two, Volume 2
Hardback
Description
Born Alice Clarke, the daughter of Oxford university's 'first director of printing', Alicia D'Anvers' poetry demonstrates an intimate familiarity with Oxford and especially with the workings of the press.
This volume reproduces three works: A Poem Upon His Sacred Majesty, His Voyage for Holland (1691), Academia: or, the Humours of the University of Oxford in Burlesque Verse (1691), and The Oxford-Act: A Poem (1693). A Poem Upon His Sacred Majesty... responds to William III's decision to visit his native Holland to negotiate with fellow Protestants about their conflict with Catholic France.
William, often impatient with English political wrangling, sometimes hinted that he might abdicate and return to Holland.
D'Anvers' poem reflects real anxieties about such an event, as well as solid support for the Protestant king.
The copy reproduced in this edition is from the Houghton Library at Harvard University. Academia and The Oxford-Act concern more local matters.
Probably D'Anvers' best poem, Academia satirises some of Oxford University's 'younger sort', often adopting language that seems as rough and coarse as that of the men that she mocks.
The Oxford-Act focuses on the annual university 'Act' or commencement ceremony which lasted for several days and included many rituals.
The copy reproduced here is from The Huntington Library.
The copy of Academia is reproduced from that held at the Folger Shakespeare Library.
Information
Format: Hardback
Pages: 128 pages
Publisher: Taylor & Francis Ltd
Publication Date: 04/11/2003
Category: Anthologies (non-poetry)
ISBN: 9780754630944
Other Formats
EPUB from £40.49
PDF from £40.49