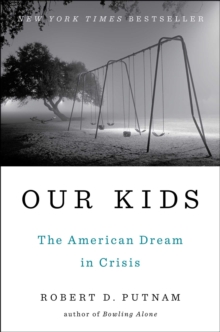 Our Kids : The American Dream in Crisis
Hardback
Description
It's the American dream: get a good education, work hard, buy a house, and achieve prosperity and success.
This is the America we believe in-a nation of opportunity, constrained only by ability and effort.
But during the last twenty-five years we have seen a disturbing "opportunity gap" emerge.
Americans have always believed in equality of opportunity, the idea that all kids, regardless of their family background, should have a decent chance to improve their lot in life.
Now, this central tenet of the American dream seems no longer true or at the least, much less true than it was.
Robert Putnam-about whom The Economist said, "his scholarship is wide-ranging, his intelligence luminous, his tone modest, his prose unpretentious and frequently funny"-offers a personal but also authoritative look at this new American crisis.
Putnam begins with his high school class of 1959 in Port Clinton, Ohio.
By and large the vast majority of those students-"our kids"-went on to lives better than those of their parents.
But their children and grandchildren have had harder lives amid diminishing prospects. Putnam tells the tale of lessening opportunity through poignant life stories of rich and poor kids from cities and suburbs across the country, drawing on a formidable body of research done especially for this book.
Our Kids is a rare combination of individual testimony and rigorous evidence.
Putnam provides a disturbing account of the American dream that should initiate a deep examination of the future of our country.
Information
Format: Hardback
Pages: 400 pages, approx 30 b&w charts, graphs t-o
Publisher: Simon & Schuster
Publication Date: 09/04/2015
Category: Social issues & processes
ISBN: 9781476769899
Other Formats
Paperback from £9.49
EPUB from £7.99
eAudiobook MP3 from £15.11
Free Home Delivery
on all orders
Pick up orders
from local bookshops
Reviews
Showing 1 - 4 of 4 reviews.
Review by DavidWineberg
27/08/2015
Shattering InsightAmerica is becoming rigid. It is settling into immobile classes. The classes don't mix, not in neighborhoods, not in schools, not in marriage and not in work. This is precisely the opposite of the ideals of the nation and the opposite of the way it was just 60 years ago. Usually, it's hard to see the trends when you're immersed in them, but this is all pretty clear in the USA in 2015. Putnam explores it through the proxy of his own experience, and intensive (sometimes horrifying) interviews with people in key communities from coast to coast. In his hometown, a rustbelt community, everyone in his generation did far better than their parents. Now, crime, poverty, underemployment, unemployment and minimal prospects for improvement are the rule. This even transcends race as the issue of the day. Blacks divide by class just as whites do. The upper classes live separate, relatively charmed lives of unlimited prospects and opportunities. The rest are lucky to make it through high school to a job of any kind. Upward mobility is all but out of the question.Putnam examines the family, the community, the school and the support network. He finds unlimited proof that in every case. The upper classes are moving forward with ease, while the lower classes and the poor are trapped in a world of violence, debt, and lack of resources. Even their social networks lack the kinds of weak ties that allow rich kids' parents to make a phone call for them. There is all kinds of irony. The principle of scarcity means the more uncertain parents are about income, jobs, and housing, the less attention they can pay to their children. Despite being around more, the stress level and the frustration level mean less parental guidance, more violence and abuse, and of course that violence, being the norm, is carried on by the children. Their experience of life is summed up as "Love gets you hurt; trust gets you killed". Survival means keeping to yourself. Don't get involved in anyone else's business. This is the exact opposite of the 20th century, when neighbors kept watch, and everyone chipped in to help. Today, no good deed goes unpunished is the philosophical backstop of most Americans. Families no longer provide the boost they did to young minds. Working and poor classes have fewer dinners together, where events and issues get aired. Their children hear far fewer words, and spend less time in after school (or any) activities. While rich kids get more face time, poor kids get more screen time Only 23% of lower class children start school already knowing the alphabet, vs 77% of the better educated classes. This chasm was not a result of a hippie revolution in the 60s. Family breakdown is a result of joblessness and lower expectations beginning in the 80s. Today, the poor and the working poor get married less often. They start families every time they start a new relationship, devoting less time to their children in total. Teen pregnancies are down significantly, but once out in the world, additional out of wedlock children are the norm.In school, socio-economic status has become more important than test scores in determining who graduates from college. The numbers are stark. Poorer kids participate in fewer after school activities, often because of pay to play, which their parents can't afford. Marching band is totally out of the question unless you come from wealth. Equal access in school has become quaint history. Lower class parents, having little or no experience with these activities, don't push their kids into them like soccer moms do. And studies show gigantic gains in income, networks and long term health for those who do participate. Informal mentoring doesn't exist for the poor kids; their parents have no support network to consult. Disengagement and retreat to social isolation affects the lower classes disproportionately. And disengagement is what the internet society is all about. The book is filled with dozens of ugly charts that all decline or point downward. The result is a totally different America, dealing with unnecessary poverty, childhood poverty, additional taxpayer burden, Lost competitiveness, lost earnings, lower consumer spending, lower growth, and of course, the dissolution of social cohesion. And near zero economic mobility for most. We are becoming two countries in the style of the kingdoms of old. The classes don't meet, mix, or trade, despite being just on the other side of the interstate highway.Putnam points to himself, revealing he could not imagine what life is like for the lower classes, because his generation was mobile and escaped them. Anyone reading this book will also likely be from the more successful class and will similarly have zero experience with the mean world of "the 99%". It makes for a gripping, shocking, appalling read. There is too much to say about this important book. Read it and it will change you.David Wineberg
Review by Daniel.Estes
27/08/2015
Our Kids by Robert Putnam is a powerful book that highlights an ever-worsening problem. However, I felt like the author was merely offering up hard evidence for cultural trends that most of us already intuitively know. I mean we can see it all around us. I admit that after awhile I was skimming through the individual profiles. These were real people supposedly and yet their stories seemed like clichés.
Review by ohernaes
27/08/2015
Putnam's (born 1941) generation grew up in the post-war period and experienced the economic boom and opportunities for upwards social mobility of that era. Their kids, the subjects of this book, have not done as well, however. Drawing mostly on interview material, Putnam tells the stories of many struggling families and how a class divide is growing. That divide is partly economic, but the cultural dimension is just as important, in particular the one having to do with parental behavior. Resourceful parents plan when to have kids, manage to exploit all opportunities, prevent risks, and raise their children to have the right attitudes, while parents with bad parenting styles don't. Residential and social sorting is part of the problem - kids of not-so-great parents get less exposure to other good role-models than before. Putnam is concerned, first on the part of these people themselves, but also on part of democratic governance, as "the opportunity gap undermines political equality and thus democratic legitimacy (p.239)", and "[a]n inert and atomized mass of alienated and estranged citizens, disconnected from social institutions (p. 239)" might give rise to "antidemocratic extremism (p. 239)" when pressured, as in Germany in the 1930s. He stresses that we have not seen the worst yet, as he believes that this type of inequality is still growing, and that we will see that when today's kids become parts of the labor and education statistics. Recommended.
Review by Sullywriter
16/06/2015
A revealing examination of America's growing inequality gap and its appalling consequences.