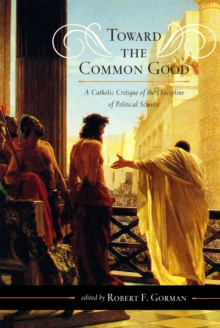 Toward the Common Good : A Catholic Critique of the Discipline of Political Science
Hardback
Description
Over the course of two millennia, the Catholic Church has served as one of the key institutional influences on the development of political science.
Papal writings on the social teachings of the Church and their application to the modern world reflect the important role the Church has played as a political evaluator and social critic of political ideas and realities and the concepts and methods through which we seek to understand them.
Toward the Common Good critiques political science from a distinctly Catholic perspective.
Essays in this work engage forthrightly with the origins and destiny of humanity and explore-through a Catholic lens-the natural inclination of human beings to aspire toward the attainment of the common good. This book examines how the subfields of political theory, comparative politics, American government, international relations, and public administration draw on foundational connections between moral and political philosophy and political science's natural affinities with history, law, anthropology, sociology, and theology.
The contributors assess the quality of contemporary political analysis by applying the Catholic principles of the unity of knowledge and pursuit of truth to the traditional principles of justice, the common good, solidarity, and subsidiarity, all in direct contrast to the utilitarian, secularist, materialist, and relativist approaches that dominate political science today.
The essays collected here address the question of method in the study of politics-especially the confining effects of regnant behavioralism-and offer in opposition a recovery of political philosophy, the natural law tradition, virtue ethics, and moral realism.
Finally, each contributor suggests how the Catholic political scientist can draw upon the truths of the Catholic faith to enter into the study of politics and how that faith influences the kinds of questions and research a Catholic political scientist undertakes.
Information
Format: Hardback
Pages: 194 pages
Publisher: Scarecrow Press
Publication Date: 06/10/2011
Category: Religion & politics
ISBN: 9780810877962
Free Home Delivery
on all orders
Pick up orders
from local bookshops
Also in the Catholic Social Thought series | View all