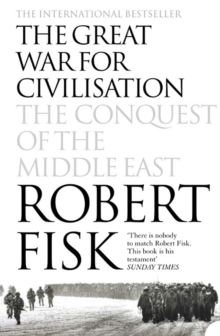 The Great War for Civilisation : The Conquest of the Middle East
Paperback
Description
Robert Fisk's bestselling eyewitness account of the events that have shaped the Middle East is alive with vivid reporting and incisive historical analysis.The history of the Middle East is an epic story of tragedy, betrayal and world-shaking events.
It is a story that Robert Fisk has been reporting for over thirty years.
His masterful narrative spans the most volatile regions of the Middle East, chronicling with both rage and compassion the death by deceit of tens of thousands of Muslims, Christians and Jews.Robert Fisk's remarkable history is also the tale of a journalist at war - learning of the 9/11 attacks while aboard a passenger jet, reporting from a bombed-out Baghdad, interviewing Osama bin Laden - and of the courage and frustration of a life spent writing the first draft of history.
Information
Format: Paperback
Pages: 1392 pages
Publisher: HarperCollins Publishers
Publication Date: 02/10/2006
Category: Middle Eastern history
ISBN: 9781841150086
Free Home Delivery
on all orders
Pick up orders
from local bookshops
Reviews
Showing 1 - 2 of 2 reviews.
Review by roblong
16/06/2015
The Great War for Civilisation covers the past thirty years of Middle Eastern history, as covered by Fisk, with pauses to take in more distant reaches such as the Armenian genocide under the Ottoman Empire. The book is vast and a real education in the region's recent history. It is intensely partisan; Fisk is a journalist and his writing is highly emotive (which makes it all the more involving): he is pro-Palestinian and regards Western policy across the region as arrogant, foolish and catastrophic. His vivid depictions of the wars and atrocities of the past thirty years amount pass comprehensible levels of horror, and reading the book is a largely dispiriting experience, leavened by the acts of kindness from the people who have to cope with it on a daily basis.
Review by jrcovey
16/06/2015
At 1,286 pages, a long and sometimes draining read, but a necessary and compelling one from a passionate voice of conscience. From the three interviews with Osama bin Laden in the opening chapter, to his closing-chapter anecdotes of sitting first in Saddam Hussein's throne and then his foxhole, Fisk has been there and seen it in the Middle East & Central Asia.What I most admire about this book is the way that it puts the lie to the idea that you cannot be fully engaged both with history and with the contemporary moment. He sees each moment in its historical context without defensive detachment, and articulates the hypocrisy in every cruel, unthinking political decision and action.Even the most hardened cynic may be shocked at some of his descriptions of violence and brutality. The chapter on Algeria, notably, is not for the faint of heart or sensitive of stomach.A few published reviews suggest that Fisk, against his own intention, creates the impression that there is nothing more to the Middle East than unending cycles of horrific violence. To some degree I agree with that criticism, but I think that this is largely inevitable due to his his journalistic role in covering specific events.For many in North America, 9/11 happened essentially out of the blue. Fisk attempts to document that long-term collective media crime by giving us 1,019 pages of lead-up to that event. There is no comparably thorough account.