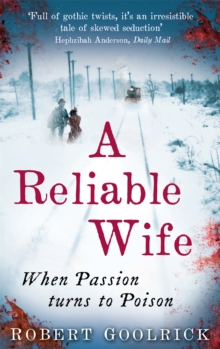 A Reliable Wife : When Passion Turns to Poison
Paperback
Description
COUNTRY BUSINESSMAN SEEKS RELIABLE WIFE. COMPELLED BY PRACTICAL REASONS.REPLY BY LETTER.Rural Wisconsin, 1907.
In the bitter cold, Ralph Truitt, a successful industrialist, stands alone on a train platform waiting for the woman who answered his newspaper advertisement.But when Catherine steps of the train she's not the woman that that Ralph is expecting.
She is both complex and devious. And, haunted by a terrible past, she is motivated by greed.Catherine's plan is simple.
She will win Ralph's devotion. Later, she will leave him as a wealthy woman.What Catherine has not counted on however is that Ralph might have plans of his own for his new wife . . .
Information
Format: Paperback
Pages: 304 pages
Publisher: Little, Brown Book Group
Publication Date: 01/03/2010
ISBN: 9780349122366
Free Home Delivery
on all orders
Pick up orders
from local bookshops
Reviews
Showing 1 - 1 of 1 reviews.
Review by jan.fleming
16/06/2015
A Reliable Wife unreavels like a deadly poisonous snake. From the cold, lonely opening on a train station platform, to the bombshell ending, the book coils around your mind with its slippery twists and turns in this dark, nasty little love story where nobody gets what they bargained for... including the reader!This haunting story of passion, madness, sex and murder explores themes of perversion, lust, betrayal and forgiveness. The story takes place in a small, rural Wisconsin town in the beginning of the 19th century and is a perfect winter evening read...the opening paragraph:"It was bitter cold, the air electric with all that had not happened yet. The world stood stock still, four o'clock dead on. Nothing moved anywhere, not a body, not a bird; for a split second there was only silence, there was only stillness. Figures stood frozen in the frozen land, men, women, and children...."The premise is that wealthy Ralph Truitt, after 20 years of misery and loneliness as a widower, advertises in a newspaper for "a reliable wife""He had wanted a simple, honest woman. A quiet life. A life in which everything could be saved and nobody went insane."Catherine Land answers the advertisment and she arrives to become his wife. However Catherine is not quite what she appears be."She knew a good deal more about what was to happen than he did." " She knew the end of the story."Seems to be a book that provokes extreme emotions - people either seem to love it or hate it, many citing that it is packed full of unnecessary overblown sexual shenanigans. Beautifully written, almost prose in some parts, I personally found it mesmerising, haunting and unforgetable.