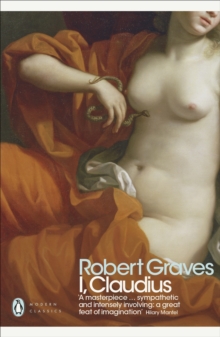 Description
Bringing to life the subterfuge and double-dealing of Roman nobility, Robert Graves's I, Claudius brings the ancient world to life with startling clarity and meticulous realism.
This Penguin Modern Classics edition is a includes an introduction by Barry Unsworth.Despised for his weakness and regarded by his family as little more than a stammering fool, the nobleman Claudius quietly survives the intrigues, bloody purges and mounting cruelty of the imperial Roman dynasties.
In I, Claudius he watches from the sidelines to record the reigns of its emperors: from the wise Augustus and his villainous wife Livia to the sadistic Tiberius and the insane excesses of Caligula.
Written in the form of Claudius' autobiography, this is the first part of Robert Graves's brilliant account of the madness and debauchery of ancient Rome, and stands as one of the most celebrated, gripping historical novels ever written.If you enjoyed I, Claudius, you might like Graves's sequel Claudius the God, also available in Penguin Modern Classics.'An imaginative and hugely readable account of the early decades of the Roman Empire ... racy, inventive, often comic'Daily Telegraph'Still an acknowledged masterpiece and a model for historical fiction ... sympathetic and intensely involving: a great feat of imagination'Hilary Mantel, author of Wolf Hall
Information
Format: Paperback
Pages: 416 pages
Publisher: Penguin Books Ltd
Publication Date: 03/08/2006
Category: Historical fiction
ISBN: 9780141188591
Other Formats
CD-Audio from £15.15
Hardback from £18.65
EPUB from £4.99
eAudiobook MP3 from £10.12
Free Home Delivery
on all orders
Pick up orders
from local bookshops
Reviews
Showing 1 - 4 of 4 reviews.
Review by seabear
16/06/2015
This book is written as an autobiography of Claudius. Pretty good, but it didn't blow me away and I'm not in any hurry to read the sequel. I have one quibble. Here's a quote from near the end:"[Caligula] visited the temple of Jove on the Capitoline Hill. Apelles was with him. He asked of Apelles, 'Who's the greater God -- Jove or myself?' Apelles hesitated, thinking that Caligula was joking, and not wishing to blaspheme Jove in Jove's own temple. Caligula whistled two Germans up and had Apelles stripped and whipped in sight of Jove's statue. 'Not so fast,' Caligula told the Germans. 'Slowly, so that he feels it more.' They whipped him until he fainted, and then revived him with holy water and whipped him until he died."There is no credible way for Claudius to have found out what Apelles thought of Caligula's question. Apelles would have had to tell either Caligula or the Germans -- unlikely in itself -- and neither of whom would have been likely to pass it on. Furthermore, elsewhere in the book, Claudius goes to some care to maintain credibility, explicitly describing how he knows (or why he is ignorant of) the details of a certain event or conversation. But here there is nothing.
Review by BenDV
16/06/2015
I, Claudius is the first part of the supposed autobiography of Claudius, who was an historian who (actually) ended up becoming the 4th Emperor of Rome. It consists mostly of him recounting the massive amount of political intrigue and backstabbing that occurred during the rule of the first three Emperors (Augustus, Tiberius and Caligula), and ends with Claudius himself being made Emperor basically by default (at least this is how it occurs in the book, apparently Graves wasn't too concerned with historical accuracy). Claudius managed to survive all this because he was seen as a 'stammering fool'; apparently he is now thought to have had cerebral palsy. So no one needed to try to kill him, since he was never a threat. The content of I, Claudius is certainly rather engaging as most of the characters are pretty interesting. The first half of the book consists of the long rule of Augustus, who is portrayed as a kind but naive man who is controlled by his devious wife Livia (Claudius' grandmother). Livia initially seems completely evil but as the characters that surround her become more and more awful, she stops seeming so bad; she is actually quite an effective leader- just one who is obsessed with being in control and assuring the successors are all her descendants. Then there's the sadistic rapist pedophile (no really) Tiberius (Claudius' uncle), who is completely paranoid and has most of the Senators of Rome killed supposedly because of treason and just wants to be on his island with his sex slaves living peacefully. And then most insane of all is Caligula (Claudius' nephew), who is basically the ultimate spoiled narcissistic little s***. He declares himself a God during his brief 4-year rule and will do absolutely anything to get what he wants all the time (and no one dares to defy him until he's assassinated). He also seems to enjoy killing people just because he can, tries to start a war with the God Neptune and is basically completely bats*** insane. The nuttiness and evil of these rulers, and the many, many other characters who come and go (most end up being executed or committing suicide out of fear of execution) are certainly what keep I, Claudius entertaining for its entire length. The problem with the book comes from the fact that Graves chooses to write it as the actual autobiography as Claudius; rather than have any sort of really interesting narrative structure, the book is just one gigantic info-dump where event a happens followed by b, c, d etc etc. It really is like reading an actual piece of narrative history, rather than a novel. This means that, much like reading real history (in my experience of that anyway), the book is entertaining to read while your reading it, but it's harder to motivate yourself to read it when the narrative is so broad, there's no suspense or climax and all the events are portrayed in a detached manner because Claudius is not involved most of the time. The writing style is very plain as well so you can't really enjoy that either. This approach just isn't very interesting, and it also seems rather silly when you consider that the book cannot be read as a piece of history in any sense because Graves constantly manipulated known history to make his characters behave in the way he wanted them to. So though this is nominally a novel, it feels like it's supposed to be primarily educational, but it can't be taken as educational because it's largely fictionalised. I don't know about you, but that strikes me as silly- if you're going to write a novel, write a novel dammit. I mean yeah it's still entertaining, as I said, but it's not exactly enthralling. But perhaps the choice to write the book in the autobiographical style rather than any other way was because Graves reportedly did not like the books (there's a sequel called Claudius the God covering Claudius' actual time as Emperor) and only wrote them for the money- seeing as the books were bestsellers I imagine this worked out rather well for him. My mild disappointment with I, Claudius only makes me more keen to watch the supposedly excellent BBC adaptation of the two novels, because this material could be made into something really special. I'm also pleased to hear that HBO are intending to do their own version; this is the sort of story perfectly suited for one of their expensive and complex ensemble dramas.
Review by nicky_too
16/06/2015
I was really young when I saw the series on tv and always thought it was because my age that I was so impressed. Now I've read the book, I know different.This is just a great way to tell the story of Roman emperor Claudius. We get to see things through his eyes. And it's a fascinating story.I dare to say so, because usually anything that has to do with Romans bores me to tears. Not this book. I practically devoured it! It's fairly easy to read (you have to get to grips with the names, though) and the character Robert Graves created for Claudius is an intelligent and funny one.I'd recommend this to anyone.
Review by andreablythe
16/06/2015
The Roman emperor Claudius presents a record of his family and his life. Known as the idiot child of the imperial family due to nervousness and an unfortunate stutter (as well as a tendency to ill health), Claudius manages to escape much of the backstabbings, poisonings, and nefarious intrigues that plague the rest of his far-reaching family. This turned out to be a fun read, although it sometimes comes off sounding like a history book (not surprising since Claudius is a historian much of his life). I don't know how much the infighting between family members and the general lust for power is based on actual history (my guess is Graves fudged quite a bit), but it is rather entertaining for the most part.
Also in the Penguin Modern Classics series | View all