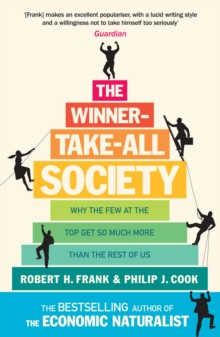 The Winner-Take-All Society : Why the Few at the Top Get So Much More Than the Rest of Us
Paperback
Description
Why does the top one per cent of the population capture such a disproportionate amount of the wealth?
Why do top athletes win dozens of sponsorship deals, yet competitors who finish just moments behind struggle to attract a single deal?
Why does one product become a runaway success, while others flounder and fail?
The answer is the rise of 'winner-take-all' markets, in which small differences in performance lead to huge differences in reward.
More relevant today than ever before, this fascinating book shows how in business, as in sport, thousands are competing for only a handful of top prizes.
As Robert Frank and Philip J Cook reveal, this relentless emphasis on coming out on top has shaped our society and how we define success in troubling ways, creating growing income inequality and an enormous misallocation of talent, as more and more gifted people seek the big bucks and limelight of lucrative yet non-essential careers while vital professions scramble to attract staff.
But there are measures we can take to create a more equitable and more prosperous future, and "The Winner-Take-All Society" shows the way.
Information
Format: Paperback
Pages: 304 pages
Publisher: Ebury Publishing
Publication Date: 03/06/2010
Category: Social issues & processes
ISBN: 9780753522264
Free Home Delivery
on all orders
Pick up orders
from local bookshops
Reviews
Showing 1 - 1 of 1 reviews.
Review by jasonli
16/06/2015
"The Winner-Take-All Society" is two economics professors talking about how competitive markets try so hard to undercut each other that the industry as a whole suffers financially. Their arguments are sound, backed both by numbers and anecdotes, and they also begin to suggest solutions to this particular aspect of the free market gone mad.The writing is lively and engaging, a particular boon for the subject matter, but I do have one gripe. Frank and Cook's solutions to the winner-take-all economy hint at their own socially conservative views. The problem isn't that they're a bit conservative, but that there is no serious discussion on why they chose one idea over another, beyond having better numbers. Yet as an economics book, perhaps "The Winner-Take-All Society" is not the forum to discuss such issues.All in all, well worth a read for anyone who puzzles over financial anomalies such as the astronomical CEO and athlete salaries.