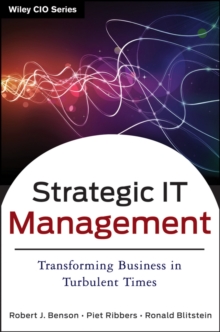 Trust and Partnership : Strategic IT Management for Turbulent Times
Hardback
Part of the Wiley CIO series
Description
Proven methodologies to enhance business value by exploiting the latest global technology trends and best business and IT practices There is no doubt that a tidal wave of change is hitting the area of business technology; new business models are forming around the cloud, new insights on how an enterprise runs is being aided by mining massive transactional and operational data sets.
Decision-making is becoming almost prescient through new classes of data visualization, data analytics, and dashboards.
Despite the promise of technologies to make a difference, or perhaps because of it, IT organizations face continued challenges in realizing partnerships and trust with their business partners. While many books take on elements of these emerging developments or address the stubborn barriers to "real" partnership, none make the practices involved fit together in a highly effective fashion - until now.
Strategic IT Management in Turbulent Times reveals how this framework ensures that organizations make the right strategic decisions to succeed in times of turbulence and change. Draws together authors with global experience including the Americas, Europe, Pacific Rim, and AfricaOffers a comprehensive framework for IT and business managers to maximize the value IT brings to businessAddresses the effects of turbulence on business and ITFocuses on developing partnerships and trust with business With practical examples and implementation guidance based on proven techniques developed by the authors over the past twenty years, Strategic IT Management in Turbulent Times considers the challenges facing today's enterprise, IT's critical role in value creation, and the practical road map for achieving strategic IT management competencies.
Free Home Delivery
on all orders
Pick up orders
from local bookshops