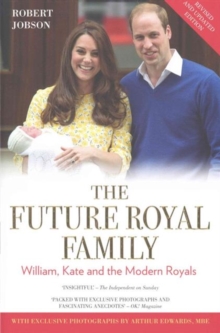 The Modern Royal Family : William, Kate and the Modern Royals
Hardback
Description
They have been dubbed 'the modern royals' by the world's media, and have not only won the hearts and the loyalty of millions of people around the world, but have helped to re-establish the British royal family as an important, and largely admired, presence in national and international affairs.
In short, Their Royal Highnesses the Duke and Duchess of Cambridge - also known simply as 'William and Kate' - have done as much as anyone to bring the royal family into the twenty-first century, and to keep it firmly in the national consciousness. The birth of Prince George, their first child, on 22 July 2013, fuelled such a worldwide media and public frenzy that it became the most talked-about event of the year.
The birth of a future heir, combined with the historic possibility of the first baby to be born not only to a Queen-in-waiting, but to the son of the much mourned Diana, Princess of Wales, accounted for much of the excitement, but that was stoked by a natural affection for the young couple.From the beginning, the world had watched with bated breath as the charming Prince William and his future bride overcame the struggles of university, rumours and a brief break-up before finally reconciling and becoming engaged. Their ceremonial wedding in 2011 - watched by an incredible estimated 2 billion people worldwide - was a defining moment, not only in their young lives, but also for the perception of the monarchy.
The Duke and Duchess of Cambridge have come to embody the spirit and hope of their nation, and their deserved popularity has had a profound effect upon the future of the royal family. As well as a history of the young couple's romantic relationship, this in-depth book chronicles the next chapters in this modern fairy tale, backed by beautiful photographs, fascinating facts and expert analysis.
Now completely revised and updated to cover the period from the birth of Prince George to the arrival of the new prince or princess in April 2015, the book is both an intriguing insight into modern royalty, and an unrivalled souvenir.
Information
Format: Hardback
Pages: 288 pages
Publisher: John Blake Publishing Ltd
Publication Date: 25/06/2015
Category: Biography: royalty
ISBN: 9781784184148
Free Home Delivery
on all orders
Pick up orders
from local bookshops