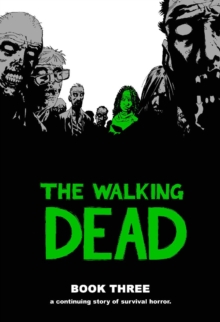 The Walking Dead Book 3
Hardback
Description
This hardcover features another 12 issues of the hit series along with thecover art - all in one oversized hardcover volume.
Perfect for long timefans, new readers and anyone interested in reading a zombie movie on paper thatnever ends.
Information
Format: Hardback
Pages: 304 pages
Publisher: Image Comics
Publication Date: 19/12/2007
Category: Horror & ghost stories
ISBN: 9781582408255
Free Home Delivery
on all orders
Pick up orders
from local bookshops
Reviews
Showing 1 - 5 of 8 reviews.
Previous | Next
Review by schatzi
16/06/2015
I like zombie movies and books, and I really do like this series, but this collection wasn't the strongest of the three deluxe hardcovers that I've read so far. The series feels more like a jazzed up, more brutal version of 28 Days Later so far. I felt like I'd already read this before.
Review by theboylatham
16/06/2015
Seven out of ten.
The survivors come across another group of survivors - with a slightly different arrangement.
Review by burnit99
16/06/2015
Rick and the others, now swttled at the prison, investigate when a helicopter crashes nearby. The small group's expedition leads them into a settlement of humans led by a sadistic psychopath, who maims Rick and tortures Michonne to find where they came from. They eventually escape and return to their prison home, where they now uneasily prepare for the probability of being found and attacked by their torturers. The storyline gets deeper and more complex, with a fine range of ethical ambiguities and choices. And we see in a horrifying way that there are worse monsters than the zombies.
Review by wilsonknut
16/06/2015
This collection of issues 25-36 goes a little over the top in terms of shock value. Several new characters just don't make sense, in a poor writing in order to advance the plot kind of way. The series as a whole is still like crack cocaine for zombie fans, and much better quality than any recent zombie films.
Review by megadallion
16/06/2015
I liked book 3 a lot more than book 2 (thankfully, because I was worried it was gonna go downhill from there). It's action-packed and exciting and I didn't want to put it down, whereas with book 2 I could take it or leave it. Most of this book is spent away from the prison (whereas book 2 was contained almost entirely in the prison, which became monotonous and boring and started to feel like a zombie-age soap opera since it revolved around drama between different people in the group). Since they get out and about, there's a lot more carnage and zombie battles which is fun and reminds the reader what an awful and terrifying situation these people are in - everyone was becoming too placid and comfortable in the last book in my opinion. Also, it kind of looks like there might be an impending war between the main characters and another band of survivors, so that will be interesting.